Student Activity
A Teacher's Guide for Women's History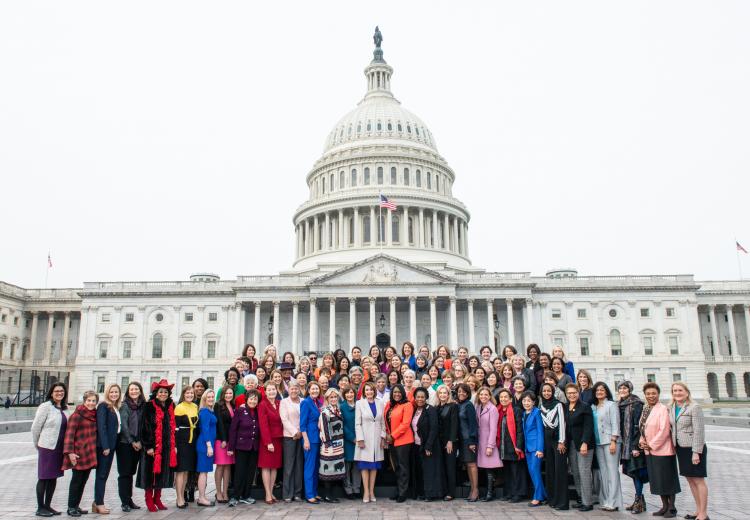 The 116th U.S Congress that began its two year session in January 2019 is historic for a few reasons. The Speaker of the House, Nancy Pelosi, is not only the first woman to hold the position, but is the first person to return to the Speaker's office in the House of Representatives since Sam Rayburn in 1955. On another historical note, 102 women were elected to the House of Representatives and 25 serve in the Senate—the most women ever elected to Congress. With next year marking one hundred years since ratification of the 19th Amendment that gave some women the right to vote in the United States, women's history is about more than just looking back.
I. Compelling Questions
Consider the following compelling questions when designing lesson openers, inquiry activities, discussions, or for reflection on women's accomplishment and experiences across U.S. history:
Why were the Suffragettes finally successful in achieving the right to vote?
To what extent did the strategies of the Suffrage Movement change between Seneca Falls (1848) and ratification of the 19th Amendment in 1920?
Why was there resistance to granting women the right to vote?
To what extent was passage of the 19th Amendment a turning point in U.S. history?
Who did the Suffragettes represent?
How have women participated in elections since 1920?
How have debates over women's rights shaped U.S. politics and culture?
What role does media play in the ongoing debate over gender roles?
Who's missing from the popular stories included within women's history?
To what extent do issues raised by 19th and 20th century Suffragettes remain?
How have major events in U.S. history transformed the status of women in society?
How have women contributed to U.S. cultural institutions and practices?
Why vote?
II. Student Activities
In the interest of fostering inquiry-based teaching and learning that utilizes primary source materials and offers students space for creative application, consider the following strategies when engaging students in research on the 19th Amendment and women's history across your curriculum:
Construct a digital timeline that centers on women's writings, speeches, publications, artistic creations, and performances to avoid limiting discussion to an era or topic of study. Combined with storyboard software, students can record voice overs and use images to construct a response to a compelling question while addressing change over time analysis.
Create a digital or hard copy commonplace book when reading biographies, literature, poetry, reviewing art, films, or other multimedia produced by women across U.S. history. From time to time students can be asked to synthesize what they record around themes, concepts, topics of study, and the inquiry questions they have designed. 
Use digital mapping software in combination with EDSITEment's Chronicling America to plot stories and connections within and across time and place on topics chosen by students (i.e. Suffragette meetings, women's organizations, education, sports, fashion, entertainment, the travels of characters in a novel or short story, historic homes, etc.). 
Create a short documentary film using storyboard software and primary sources, including audio-visual resources, on a theme or concept that spans beyond a single unit or era. 
III. Resources and Lesson Ideas
The resources provided highlight the contributions of women in the U.S., but their use should not be relegated to a single month during the school year. Educators are asked to reflect on how these and other stories can be integrated across curriculum and invited to share how they and their students do so by visiting the EDSITEment Facebook page or sharing on Twitter (@EDSITEment). 
Who were the Foremothers of the Women's Suffrage and Equality Movements?
Chronicling and Mapping the Women's Suffrage Movement
Women's History through Chronicling America
The Declaration of Sentiments by the Seneca Falls Conference (1848) 
Voting Rights for Women: Pro- and Anti-Suffrage 
Women's Suffrage: Why the West First?
Women and War
Women's Equality: Changing Attitudes and Beliefs
Chronicling America: The 19th Amendment