Media Resource
The Helen Keller Archive: Access for All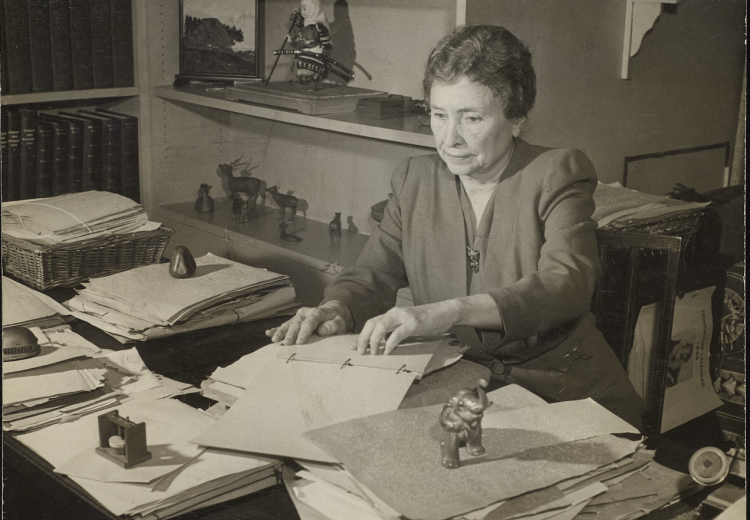 The Helen Keller Archive Digitization Project is an NEH-funded initiative bringing the life and work of Helen Keller to a global audience. This project united the talents of archivists, scholars, programmers, educators, usability testers, and a team of volunteer transcribers and spurred the development of groundbreaking technical features supporting accessibility for visitors who are blind, low vision, deaf, deafblind, and hard of hearing. This collaboration can serve as a model for archives looking to provide robust access to people with disabilities.
Helen Keller, the most famous person with disabilities in the 20th century, was a prolific writer, public speaker, suffragist, social activist, and global ambassador. In the Helen Keller Archive, curious researchers can find her correspondence with everyone from Mark Twain to President John F. Kennedy, speeches and essays spanning from 1900 through 1961, letters detailing her work with the American Foundation for the Blind, photographs of her beloved dogs, and handmade scrapbooks kept by her companions.
Classroom Connections
The Helen Keller Archive includes lesson plans that introduce middle and high school students to archival work, engage them in primary source analysis, and help them develop critical historical thinking skills.
Lesson One: Introduction to Digital and Physical Archives
What is an archive and how does it work? In this lesson, students learn how to navigate the Helen Keller Archive by browsing series or subject and performing effective keyword searches. 
Lesson Two: Primary and Secondary Sources
How do historians write history? Students learn to identify and use primary and secondary sources in their research and historical writing. Students will closely examine selected primary sources written by and about Helen Keller. 
Lesson Three: Votes for Women, A Voice for All: Helen Keller, Suffragist
Helen Keller was a fierce advocate for women's suffrage. In this lesson, students read and analyze primary source documents from the Helen Keller Archive related to the suffrage movement. Through guided examination, students will learn the breadth and depth of Keller's advocacy and dissect her multi-pronged arguments and savvy rhetoric.
The Americans with Disabilities Act
Passed into law in 1990, the Americans with Disabilities Act is a civil rights law that protects individuals with different types of disabilities from discrimination. Our lesson on the Americans with Disabilities Act explores the road to passage of this transformative piece of legislation through the use of multimedia and primary source materials that students examine as they investigate the guiding question "How did the Americans with Disabilities Act lead to a more perfect union?"