Teacher's Guide
Preparing for National History Day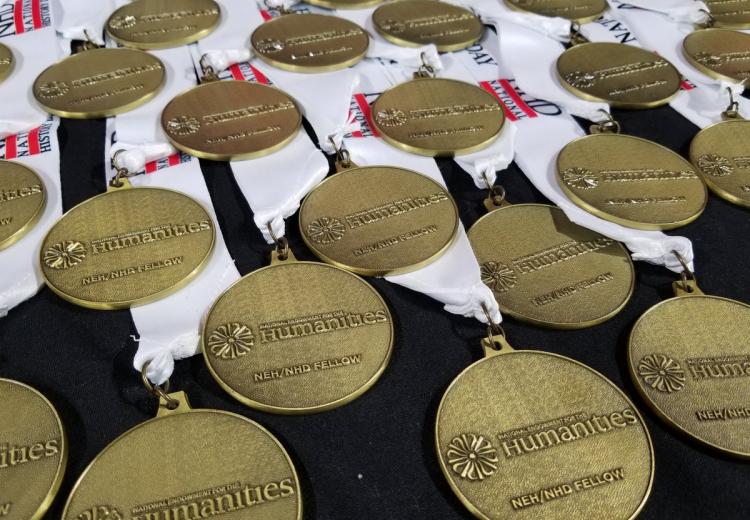 "In history, a great volume is unrolled for our instruction, drawing the materials of future wisdom from the past errors and infirmities of mankind." 

— Edmund Burke 

National History Day makes history come alive for students by engaging them in the discovery of the historic, cultural, and social experiences of the past. Our collection of resources is designed to assist students and teachers as they prepare their NHD projects and highlights the long partnership that has existed between the National Endowment for the Humanities and National History Day. This Teacher's Guide provides resources for the current theme, tips and advice on conducting research to complete any NHD project type, and access to materials from previous themes and NEH/NHD programming. 
Building A More Perfect Union Lesson Book
The National Endowment for the Humanities and National History Day created the Building a More Perfect Union lesson book as part of the NEH's special initiative to advance civic education and the study of U.S. history and culture in preparation for the 250th anniversary of the signing of the Declaration of Independence. The two essays and fifteen lessons include primary sources, compelling and guiding questions, inquiry-based activities, opportunities to consider multiple and competing perspectives, and supplementary materials available at EDSITEment. The complete Building a More Perfect Union lesson plan book is available for free download here and at NHD's site for the 250th. EDSITEment's Building A More Perfect Union media resource page includes the essays and lessons, as well as supplemental materials, lessons, and resources for including themes related to "a more perfect union" across civics and U.S. history curricula. 
Guiding Questions
How has technology transformed how we communicate and what has this meant for history?
What have debate and diplomacy produced in history?
What qualifies an event as a turning point in history?
How have conflicts been transformed into compromises across history?
To what extent have those who have taken a stand inspired change?
What factors contributed to the event or action you are investigating?
The NEH and NHD: Partners for History
Chronicling America and National History Day
NHD Advice from NEH Experts
2023: Frontiers in History: People, Places, Ideas
2022: Debates and Diplomacy in History
2021: Communication in History
2019: Triumph and Tragedy
2018: Conflict and Compromise
2016: Exploration, Encounter, Exchange
2015: Leadership and Legacy
2014: Rights and Responsibilities