Lesson Plan
Afro Atlantic: Exploring Emancipation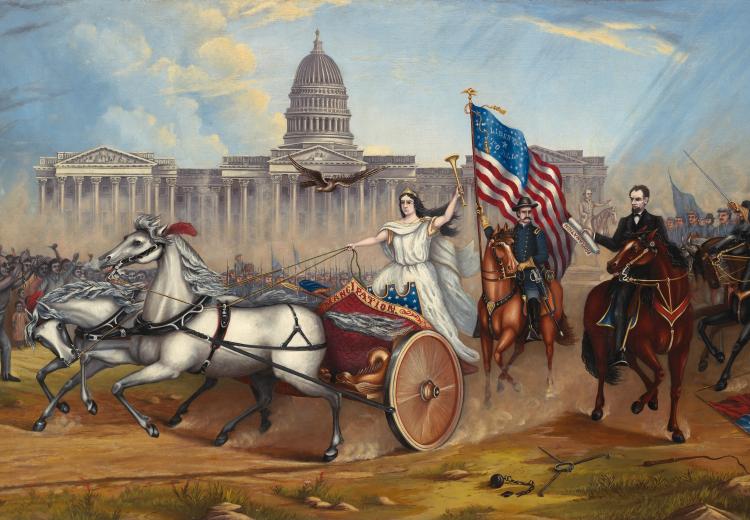 A. A. Lamb, Emancipation Proclamation, 1864 or after, oil on canvas, National Gallery of Art, Washington, Gift of Edgar William and Bernice Chrysler Garbisch, 1955.11.10 
When the Emancipation Proclamation went into effect on January 1, 1863, all enslaved people living in the rebellious states of the Confederacy were ensured freedom. However, it would require the continued military campaigns of the U.S. Armed Forces to enforce the proclamation. In fact, these campaigns would last until June 19, 1865, when the Black population of Galveston, Texas received word of their emancipation. This day has been celebrated as "Juneteenth" since that time and was recognized as a federal holiday in 2021.  
A.A. Lamb's painting Emancipation Proclamation presents an imaginary scene at the U.S. Capitol where Abraham Lincoln and the Union cavalry appear as the heroes of emancipation. Using this painting along with other primary sources and entries from BlackPast (a project supported by NEH affiliate Humanities Washington), students can explore the successes and shortcomings of the Emancipation Proclamation and the Reconstruction amendments, as well as the roles played by Black people in securing their own freedom.
This resource is drawn from the content of the Afro-Atlantic Histories exhibition organized by the Museum of Fine Arts, Houston, and the Museu de Arte de São Paulo in collaboration with the National Gallery of Art, Washington. All related materials found on EDSITEment have been provided courtesy of the National Gallery of Art, Washington.
Guiding Questions
What were the immediate and long term effects of the Emancipation Proclamation?
What factors influenced the ability of formerly enslaved people to live in freedom?