Media Resource
Visualizing Emancipation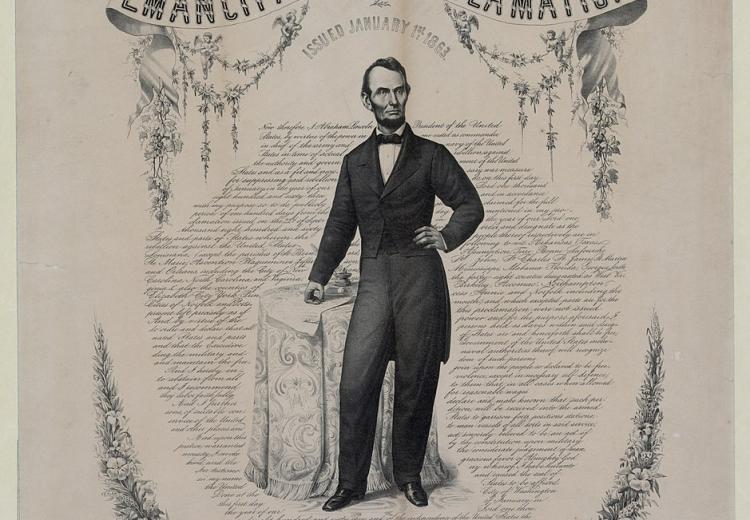 The NEH-funded digital history project Visualizing Emancipation provides an interactive way to explore "emancipation events"—whether actions taken by enslaved people to secure their freedom, military engagements, or changes to law and policy—across both time and space. Many events link to the primary sources where they were originally documented.
Classroom Connections
EDSITEment has an extensive collection of lesson plans and other resources for teaching about the Civil War; provided below is a list of those that address emancipation specifically.
Curriculum: Civil War: A "Terrible Swift Sword" (grades 9-12): This unit addresses several major questions about the Civil War period, asking students to work intensively with primary sources. Lesson 3, on Lincoln's wartime policies, asks students to read the Emancipation Proclamation and some contemporary responses to it.
Lesson Plan: The Emancipation Proclamation: Freedom's First Steps (grades 9-12): Students assess why Lincoln issued the Emancipation Proclamation and African Americans' responses to it.
Visualizing Emancipation also provides a lesson plan and worksheet to work directly with the materials available on the site.
As students explore the site, they might think about the following questions:
Before beginning to explore the site:
What do you know about the emancipation of enslaved people? How did you learn what you know?
As they explore:
What kinds of events are mapped on the site? How did each contribute to emancipation? What kinds of events affecting emancipation might not appear? Why not?
What kinds of sources were used to map these events? Examine some of the primary sources linked on the site. What do you think were some of the challenges of creating this map?
After exploring the site:
Did this site change or add to what you know about emancipation? How so?
What did you learn from this site and how did you learn it?