Media Resource
Picturing America: Dorothea Lange's "Migrant Mother"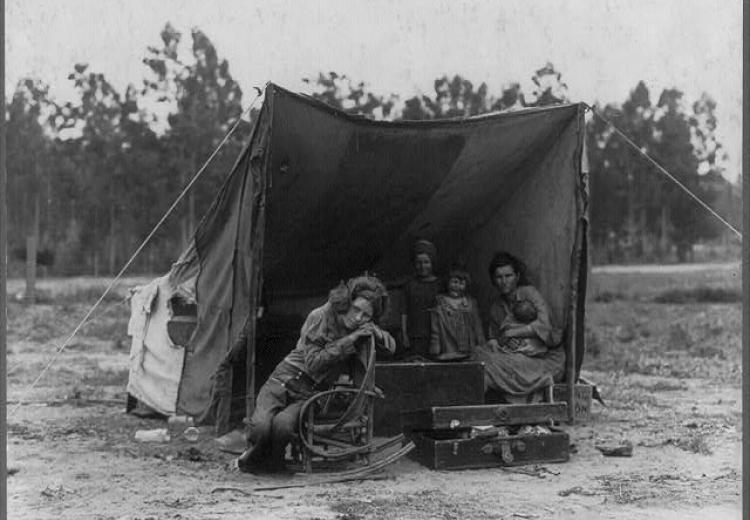 Dorothea Lange was a photographer working for the Resettlement Administration (later the Farm Security Administration), documenting the hardships faced by farmers during the Great Depression, when she took what has become one of the most iconic images of the period—indeed, of American history. Less well-known than Lange's name, or the photograph of her, is the name of the woman in it: Florence Owens Thompson, a Cherokee woman active in labor struggles in the 1930s.
Watch the video (5 minutes) from Picturing America.
Classroom Connections
Comprehension Questions
What was the role of photographers for the Farm Security Administration?
How do the different perspectives affect the emotional power of the photographs? What do you find most compelling about each image? (You can view the series of images from the Library of Congress.)
How did people respond to the publication of the images?
How has the image been reused over the years?
Discussion Questions
It is likely that students have seen this photograph and can associate it with the Great Depression. It is less likely that they know the history of the image itself, thus opening space for a discussion of the circumstances in which the image was produced, the role of images in both supporting and limiting historical memory, and the politics of representation.
What events, emotions, and ideas does this image evoke for you?
Read more about the image and Florence Owens Thompson's response from the Library of Congress.

Why was Thompson upset by the publication of the image?

While the publication of the image did result in an influx of aid to the migrant workers where the image was taken, Thompson's family had moved on by then and did not benefit from the response to her photograph.

How do you think the anonymity of the woman in the photo—which lasted for many years—affected its reception?
What ethical issues are at stake in the taking, publishing, and viewing of photographs?

Think of another photograph that has become an iconic representation of an event or period. What do you immediately associate with this image? Conduct some research to see who created the image, in what context, and for what purpose. How does what you have learned affect how you now see the image.