Student Activity
A Teacher's Guide for the Reconstruction Era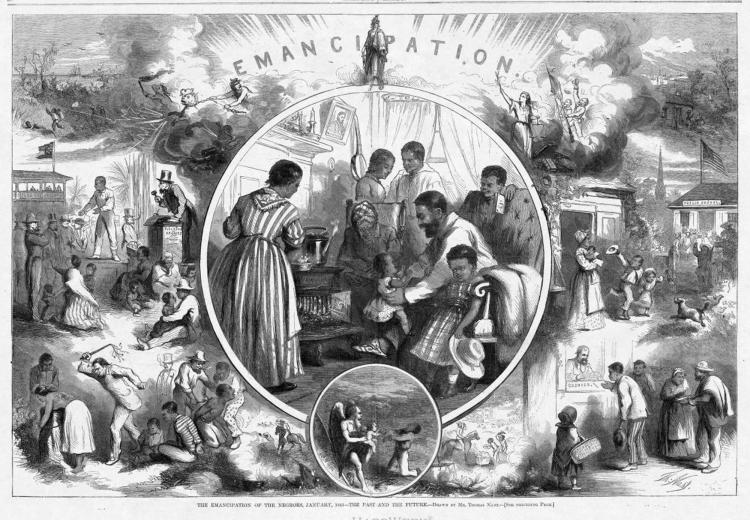 "The law on the side of freedom is of great advantage             
only when there is power to make that law respected."
                                                                               
                                                     – Frederick Douglass
The surrender by Confederate General Robert E. Lee to Union General Ulysses S. Grant on April 9, 1865 at Appomattox marked the end of one period of violence and regional difference in the United States and the beginning of another. Reconstruction (1865-1877) is the period of time following the American Civil War (1861-1865) when some politicians and citizens sought to reunify the nation, integrate freed slaves into society and the economy, establish political and economic rights for all African Americans, and determine what role the U.S. government would play in implementing these policies while preventing another civil war from breaking out. On the contrary, some politicians and citizens resented the prospect of there once again being a single nation, rejected equal protection under the law and birthright citizenship in the United States, no matter a person's race, and refused to accept the termination of slavery as an institution and practice. Historian and scholar W. E. B. DuBois wrote of this complex time that "The slave went free; stood a brief moment in the sun; then moved back again toward slavery."
This Teacher's Guide provides compelling questions to frame a unit of study and inquiry projects, along with activity ideas that include use of newspapers from the era and resources for social studies, ELA, and music education. Our NEH sponsored multimedia resources provide a look into the history, as well as contemporary connections for students to engage in a change over time analysis. Teachers can also access a seminar and DBQ activity for students in grades 8-12 that brings together primary source documents and supports student inquiry. 
I. Compelling Questions
To what extent did Reconstruction forge a "more perfect union"?

Did Reconstruction extend or undermine democracy in the United States? 

Why did Black Codes and Jim Crow exist?

How did local and regional differences affect the ways in which Reconstruction was implemented? 

What did the Reconstruction era mean from economic and labor rights?

To what extent did Reconstruction resolve disagreements over political rights and representation?

Was Reconstruction a second American Revolution?

What did the Reconstruction Amendments mean for citizenship in the United States?

What is the lasting legacy of Reconstruction era policies and practices?

Should reparations be provided to the descendants of slaves?
II. Chronicling America Topic Pages
III. NEH Digital Media Projects
Visualizing Reconstruction couples data regarding the end of slavery and the Civil War with digital mapping. 
Reconstruction: A Statistical Look at Southern Recovery is an interactive that combines population statistics, geography, primary sources, and history for the examination of slavery and Reconstruction in U.S. history.
Slavery by Another Name is a 90-minute documentary that challenges a long held assumption: the belief that slavery in United States ended with the Emancipation Proclamation.
Contested Landscape: The Battle Over Confederate Monuments. This episode of BackStory includes discussion of when and why many of the nation's Confederate statues were erected and what they stood for. 
A More Perfect Union: The Reconstruction Era. This episode of BackStory examines when Congress passed the first Reconstruction Acts, paving the way for Confederate states to rejoin the Union after the war.  
Radio Diaries: Civil War Widows. This podcast tells the story of Daisy Anderson and Alberta Martin, two women who, when they were in their early twenties, married men who were near 80 and, as it happens, served on opposite sides of the Civil War.
IV. Opposing Viewpoints in Historical Newspapers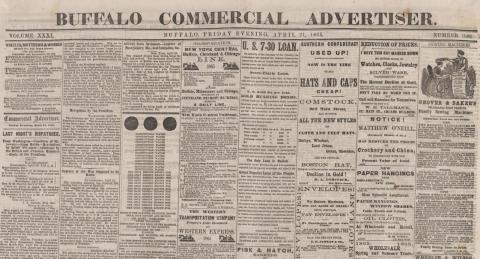 "The beauty of the prospect, is not what entices them to rush on, to what we believe will be our certain destruction: and this is sufficiently evident, not only from the unanimity with which they agreed, to the beginning, that a separation once effected, should be final and eternal--not only from the very dark picture, which even the most superficial view of the consequences of reconstruction, presents--but alas from their own statement that they prefer reconstruction by consent, as the alternative to subjugation, which to them seems, to be inevitable."
"We fear President Johnson is too fast. Treason has not been made odious! The work of reconstruction has been commenced before any leading traitor has been punished."
"Is there in all history, a parallel to the "Reconstruction Committee?"
"Of what value would freedom be to the negro if he had not the right to maintain himself, honorably, either as a farmer or mechanic, or by engaging in some business?"
"Freedom of speech and of the press, education, equality before the law and in political rights and privileges are the essentials of any satisfactory reconstruction in the South."
"The arrest of Maj. McCardle, the distinguished and chivalric editor of the Times took place yesterday. On inquiry we learned that he had been arrested for obstructing reconstruction and advising resistance to the acts of Congress. This is a poor pretense."
V. Literary Resources
The Charles Chestnutt Digital Archive includes Chestnutt's poetry, essays, a digital version of his novel, and a collection of short stories.
Frances Ellen Watkins Harper was a prolific writer who published multiple collections of poetry from 1845 through the 1890s.
Harper's Weekly, January 14, 1865, "A Soldier's Dream" (poem, p. 26).
"To dream of the loved ones far away,
Or hear in the wind the shell's wild scream."
Reconstruction Era Literature (New York Public Library) 
Reconstruction in Young Adult & Middle Grade Fiction
VI. Reconstruction Era Music
Music of the Civil War and Reconstruction
Oh, freedom over me!
And before I'd be a slave
I'll be buried in my grave
And go home to my Lord and be free.
Rhiannon Giddens and Dirk Powell Explore Reconstruction Era Music
Digital History: Civil War and Reconstruction
VII. EDSITEment and
NEH Resources
Student Interactive: Revolution to Reconstruction
The Battle Over Reconstruction
Frederick Douglass's "What to the slave is the Fourth of July?"
From Courage to Freedom: Frederick Douglass's Autobiography
Robert S. Levine's "Frederick Douglass Once Turned to Fiction to Describe What He Considered True Heroism: The story behind Douglass's only novella." HUMANITIES, Spring 2018, Volume 39, Number 2.