Media Resource
BackStory: To Be a Citizen? The History of Becoming American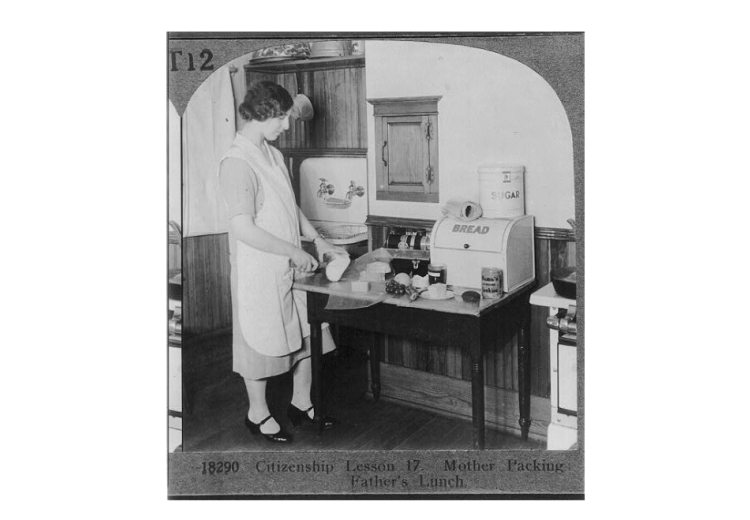 The meaning of U.S. citizenship, as symbol and lived experience, has changed over time. Consider the picture on this page, which is part of a stereo card produced by the Keystone View Company around 1929. We don't know much about this card other than its caption and catalog information. The caption reads, "Citizenship Lessons: no. 17 - Mother Packing Father's Lunch." The old caption card for the image says, "Photog. I.; Aliens; Adult education; Citizenship; Shelf." Based on this information, what might you infer about this card and how it was used? What ideals of and assumptions about citizenship does it communicate?
In "To Be a Citizen? The History of Becoming American," listeners will learn more about how citizenship has been expanded, limited, challenged, and revoked in the United States. You'll hear about what happens when borders cross bodies, drawing new territory and people into the United States in what was often a violent and contested process; how Chinese immigrants and their American-born children challenged the boundaries of whiteness and citizenship in the late 19th century; how women have been stripped of their citizenship after marrying a non-citizen; and how African Americans after World War I fought for the unfulfilled promises of citizenship.
A full transcript of this episode can be found at the BackStory website.
The Clash of Cultures in "The Cart War" (00:40-7:00)
In the Shadow of Chinese Exclusion (7:00-23:00)
Gain a Husband, Lose a Country (23:44-35:45)