Closer Readings Commentary
National Native American Heritage Month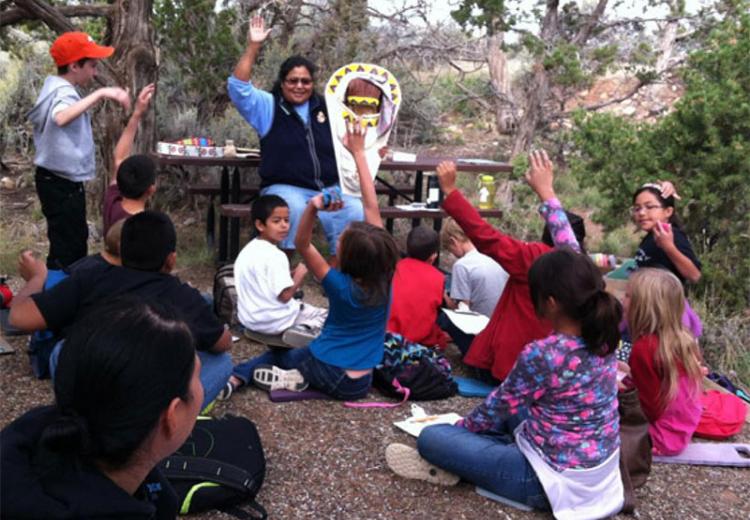 November is National Native American Heritage month. What better way to celebrate it than to sample the culture and explore the history of some groups within the 4.3 million people who identify themselves as Native American in the United States?
Every year since 1990, Congress has authorized an annual presidential proclamation urging the nation to learn about the contributions and cultures of American Indians. The month of November was chosen as it represents the end of harvest time and our national celebration of thanksgiving.    
In the following listing of resources developed by EDSITEment or supported by the National Endowment for the Humanities, we have highlighted new and classic lessons; upcoming professional development opportunities for teachers; documentary films available to stream; podcasts; interactive games; vetted websites; and archives of primary sources.
Contemporary Native American Poetry
The foundation of a 21st-century American community is shared respect among individuals who come from different backgrounds, places, and experiences. Native Americans take that concept even further by valuing all the inhabitants of the earth and sky—animal, vegetable, mineral, and spirit. As first inhabitants of our land, they set a model for inclusiveness in light of diversity.
Poet Joy Harjo, a member of the Mvskoke/Creek Nation, reminds us to pay attention to who we are and how we are connected to the world around us in her poem "Remember." The companion lesson plan from EDSITEment's and the Academy of American Poets' Incredible Bridges project provides activities to use with students before, during, and after reading the poem.
Hopi: Language of Place  
The Hopi Tribe, a sovereign nation inhabiting over 1.5 million acres in northeastern Arizona, has a rich connection with the environment that pervades their culture and language. The reverence the Hopi have for corn cultivation is apparent in their art, poetry, songs, and dance celebrations.
Language of Place: Hopi Place Names, Poetry, Traditional Dance and Song, is a three-lesson ELA curriculum unit, which guides students' exploration of Hopi language forms in order to help them to understand the Hopi's centuries-old relationship with the land and the process of growing corn.
Lesson 1 uncovers the Hopi homeland through maps and place names. Students examine regional place names of their own home communities and create personal maps;
Lesson 2 involves a close study of contemporary Hopi poet, Ramson Lomatewama. Students analyze how Lomatewama's uses figurative language to describe his intimate relationship with the land;
Lesson 3 pursues corn as a symbol manifested in Hopi song and traditional dances. Students analyze examples of these in order to expand their cultural awareness.
Professional Development—NEH Summer Institutes for Teachers 2017
Additional Resources
Art & Culture Lessons
Anishinabe/Ojibwe/Chippewa: Culture of an Indian Nation
Native American Cultures across the U.S.
Traditions and Languages of Three Native Cultures: Tlingit, Lakota, & Cherokee
History and Social Studies Lessons
The Native Americans' Role in the American Revolution: Choosing Sides
Mapping Colonial New England: Looking at the Landscape of New England
Empire and Identity in the New England Colonies
Features
The Road to Santa Fe: A Virtual Excursion
Interactive Games
Mission US: A Cheyenne Odyssey
Documentaries
Podcasts
"Reimaging Sitting Bull: Tatanka Iyotake," On Being with Krista Tippett
Reference Websites
Peoples of the Mesa Verde Region
Follow an unfolding chronology in the artifacts, housing, and food of the Paleoindian, Pueblo, Ute, Navajo, and European inhabitants.
Why Treaties Matter
Discover how the treaties of the Dakota and Ojibwe have impacted the indigenous peoples whose lands now comprise the state of Minnesota.