Closer Readings Commentary
Jazz Appreciation Month: Women in Jazz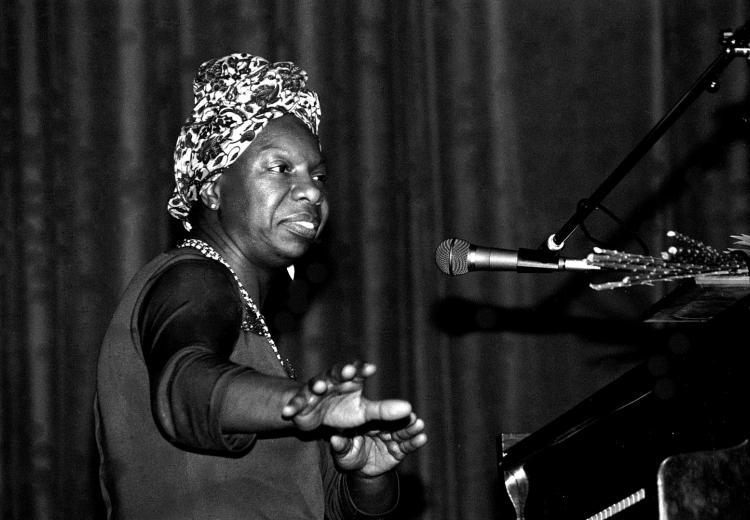 Jazz Appreciation Month (JAM) was created by the National Museum of American History back in 2002 to celebrate the extraordinary heritage and history of jazz. Each year the museum picks a theme and a major musician to commemorate. This Closer Reading honors women in jazz—particularly Nina Simone (the 2021 featured artist for Jazz Appreciation Month) and Ella Fitzgerald (2017)—while also providing resources for integrating jazz, music, and history across humanities classrooms.
"The High Priestess of Soul"
Musician and civil rights activist Nina Simone (1933-2003) is the featured artist for the Smithsonian's 2021 Jazz Appreciation Month. Born Eunice Kathleen Waymon in Tryon, North Carolina, the music prodigy began learning piano by ear at the age of three before becoming a classically trained pianist by way of private lessons followed by studying at The Julliard School in New York City. Although a classically trained pianist, the singer-songwriter's first album, Little Girl Blue, was a collection of jazz standards with one original instrumental released by Bethlehem Records in February 1959. Simone recorded over 40 albums that spanned classical music, jazz, blues, spirituals, gospel, and pop, and was given the honorific of "High Priestess of Soul" in recognition of her ability to, as the lyric goes, "put a spell on you."
An outspoken activist, Nina Simone's music directly addressed what the country and Black people were enduring and fighting for as the civil rights movement continued through the 1960s and 70s. Composed and recorded soon after four girls were killed when the 16th Street Baptist Street Church in Birmingham, Alabama was bombed in September 1963, Simone's "Mississippi Goddam" (1964) is an expression of hurt and anger, as well as a determination to achieve equality. In 2018, the Library of Congress added this song to the National Recording Registry and includes an essay written by Nadine Cohodas. That same year, Simone was also honored with a sculpture and "Nina Simone Plaza" in her hometown of Tryon, NC. Work continues by the Eunice Waymon-Nina Simone Memorial Project on the creation of a Nina Simone archive and preservation of her childhood home.
Nina Simone's music and civil rights activism made her a compelling figure, and her contributions to the history and culture of the United States are worthy of study and celebration during Jazz Appreciation Month and beyond.  
"The First Lady of Song"
Ella Fitzgerald (1917-1996), known simply as "Ella," was widely regarded as "the First Lady of Song" and is considered one of the greatest singers of the 20th century.
She was born in Newport News, Virginia on April 25, 1917. Her mother moved the family to Yonkers, New York in the twenties as part of the first Great Migration of African Americans. Despite domestic hardships and even being homeless for a time, a teenage Ms. Fitzgerald made her debut at the famous Apollo Theatre winning over the sophisticated audience – and the rest is music history.
To quote from the Smithsonian Museum website, Ms. Fitzgerald's "warm and lovely voice, superb rhythmic sense, considerable versatility, a great range (three and a half octaves), meticulous intonation, and improvisatory gifts as a fine natural melodist" made her into a living legend in performance, on record, and on radio and television.  She made won 13 Grammys and sold over 40 million albums during her decades long career.
In 1999, the American Masters series presented "Ella Fitzgerald: Something to Live For," a documentary supported by the National Endowment for the Arts that contained memorable footage of Ms. Fitzgerald's many performances. The American Masters site has a short biography and a useful timeline of her career. The documentary can be accessed via YouTube.
Jazz Appreciation
Jazz appreciation encompasses much more than a recognition of iconic artists; it relies upon educators, societies, libraries, museums, and musicians from across the country to promote and teach this unique cultural expression. Throughout the month, programs online, in museums, and in communities will survey jazz cultural history and musical performance.
As any musician or fan will tell you, jazz cannot be taught through textbooks alone. Understanding that learning about jazz and its history requires active listening, reading, and discussion, EDSITEment has compiled a brief list of web links and topics to help educators and students in the classroom and beyond.
EDSITEment Lessons
Romare Bearden's The Dove: A Meeting of Vision and Sound—students learn to appreciate how visual art and jazz intersect to tell us a story.  (Interestingly, jazz musician Benny Carter was a collector of Bearden's work.)
The Music of African American History—will encourage students to consider the variety of influences in the American music tradition.
Online Jazz History Archives
Chronicling America—Explore the Library of Congress and NEH's joint project to digitize our nation's historical newspapers by reviewing articles collected under the topic "Early Jazz Music: Backlash and Opposition" or by conducting a keyword search for "jazz."
Investigating Local History—Try searching for "jazz" in one of the southern state encyclopedias such as Alabama, Arkansas, Georgia, Louisiana or South Carolina. 
The Jazz Loft—Listen to the entire ten-part series produced by WNYC and the Center for Documentary Studies, plus four anthology segments of one hour apiece. 
African American Sheet Music—Browse this extensive collection of early sheet music by African American composers for examples of early jazz and its musical predecessors, such as ragtime and the blues.
The Red Hot Jazz Archive—This is the definitive online resource for learning about jazz before 1930. Read in-depth essays and biographies and listen to hundreds of recordings.
Jazz Education
Jazz in America—Created by the Thelonious Monk Institute of Jazz with partial funding from NEH, this website offers new Internet-based jazz curricula for social studies, American history, and music classes in the U.S. This is the first jazz/social studies curriculum using current Internet technology and offered free of charge on a national basis.
The National Association for Music Education—The website for a national network dedicated to jazz education.
Jazz Studies Online—Founded by Columbia University's Center for Jazz Studies, this website offers a wide selection of digital resources—journal articles, book chapters, magazines, teaching materials, talks, internet links, and performances—to represent the diversity and innovation in jazz studies.
International Jazz
Jazzinstitut Darmstadt—Besides a description of its large archival collection in Germany, the Jazzinstitut website contains a comprehensive list of other international organizations, workshops, musicians, and clubs.
Jazz Beyond Borders—The 2019 JAM theme "Jazz Beyond Borders" provided an opportunity to take a more global look at the stylings and influences of jazz music and musicians. 
Researching Jazz
Below is a list of possible topics that students might explore in classroom discussion or as a research project:
Ella Fitzgerald and Racial Discrimination
Billie Holiday and the song, "Strange Fruit"
Josephine Baker, the World War II underground French Resistance, and 1950s civil rights activism
Jazz in Nazi Germany and World War II concentration camps
Louis Armstrong and desegregation in Little Rock, Arkansas
The State Department jazz tours of the 1950s and 60s featuring Dizzy Gillespie, Louis Armstrong, and Dave Brubeck
Jazz behind the Iron Curtain
Willis Conover and Voice of America
Jazz and the civil rights movement
The Zoot Suit riots