Closer Readings Commentary
Jazz Beyond Borders: Jazz Appreciation Month 2019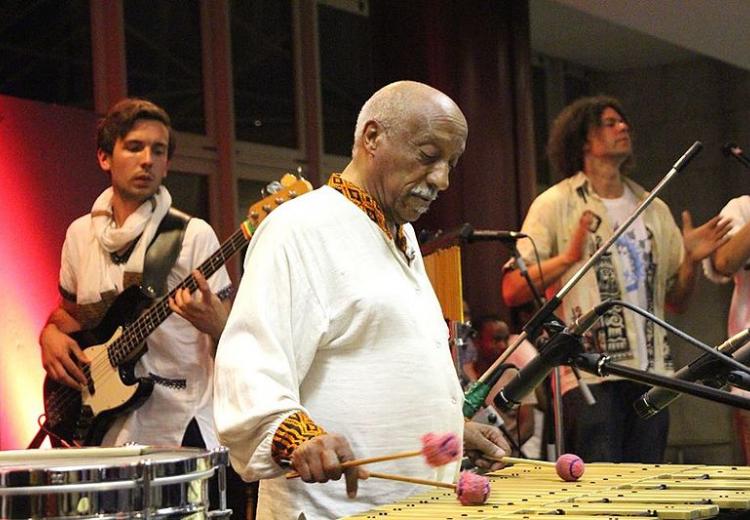 A vibrant brassy note drifts out of the club on the corner and is lifted down the street by the cool night breeze. A saxophone is inviting us to come in, sit down, and enjoy the melodious mix of sounds and inspirations that is jazz.
Since its inception in 2001 by the National Museum of American History, Jazz Appreciation Month (JAM) has served as a time to celebrate and remember the diverse artistic compositions of jazz musicians. Each April we pause to reflect on the lasting contributions of jazz icons Louis Armstrong, Billie Holiday, Duke Ellington, Ella Fitzgerald, Charlie Parker, Miles Davis, Nina Simone, and John Coltrane, while also turning toward contemporary ambassadors such as Wynton Marsalis, Esperanza Spalding, Terence Blanchard, Cassandra Wilson, Trombone Shorty, Dee Dee Bridgewater, and many more who have contributed to the writing, arranging, recording, and performing of jazz music.
With the 2019 JAM theme "Jazz Beyond Borders" and the featured artist Nat King Cole, we have an opportunity to take a more global look at the stylings and influences of jazz music and musicians. For this Closer Reading, we discuss the transborder influences on and of jazz including the role played by the U.S. State Department during the Cold War, the global reach of jazz artists then and now, and close with a brief discussion of NEH projects that have helped to preserve and share the historic and cultural contributions of jazz.
American Artists Abroad
A conga drum, bamboo flute, and kora. A bass drum, clarinet, and a piano. While the latter are more likely to align with what we typically imagine as being part of the canon of jazz instruments, the former are also found on stages and in recording studios across the world. As a result, the syncopation of sounds that are fused together within a jazz composition have come from and continue to reach all parts of the globe.
Duke Ellington may have been born in Washington, D.C. and made a name for himself and his band at the Cotton Club in Harlem, New York, but he was known the world over—and his music reflects that global awareness. As part of a Cultural Ambassadors program begun by the U.S. State Department in 1956, Ellington's orchestra was deployed for the first time in 1963, with trips to India, Ceylon, and eight countries in the Middle East, including Iraq, Iran, Syria, and Turkey. Ellington performed in Senegal in 1966, took his band to the Soviet Union in 1971, and criss-crossed Latin America and Southeast Asia in 1972 before giving his last State Department performance in Ethiopia in 1973. 
Picking up and dropping off musical influences along the way, Duke Ellington released Afro Bossa on the heels of his first State Department trip. Afro Bossa was followed by the Grammy award winning album Far East Suite in 1967 and although he did not often play selections from the album in concert, the album is credited with having a significant influence on Asian American jazz artists. For instance, in 1999, composer and musician Anthony Brown—the son of an African American father and Japanese mother—recorded the entire suite with his orchestra, using Eastern instruments along with standard jazz instruments.
One of the first ambassadors sent by the State Department, Dizzy Gillespie is known as a jazz innovator and originator of bebop. Gillespie popularized Afro-Cuban-Latin jazz during the 1940s, served as a State Department jazz ambassador during the 1950s and 60s, and led the United Nations' Orchestra during the 1980s.  Like Ellington and Gillespie, Nat King Cole, the 2019 JAM featured artist, gained international notoriety though he did not participate in the State Department program. To honor his music and centennial, two new collections are being released this year, including the International Nat King Cole. This album includes, among other songs, recordings of his hit "L-O-V-E" in five different languages.
What a Wonderful World
Ellington's last concert as part of the State Department tour in Ethiopia was not the end of his collaboration there. Working closely with the already established fusionist jazz musician Mulatu Astatke, the two brought their bands together to create new interpretations of American and Ethiopian jazz standards using Western and African instruments.
Mulatu Astatke received his musical training in Europe and the United States and the influence is obvious on his first two albums—Afro-Latin Soul, Volumes 1 and 2—which were recorded in New York City and released in 1966.  Upon returning to his home of Ethiopia, Astatke blended West and North African sounds to create what is now known as Ethio Jazz. The global influence of and upon his musicianship is captured in the tri-city titled compilation New York–Addis–London: The Story of Ethio Jazz 1965–1975.
Known as the "Father of South African Jazz," Hugh Masekela is as notable to the history of jazz and blues music in Sub-Saharan Africa and his home country as Miles Davis and John Coltrane are in the U.S.  In fact, Masekela, as part of the five man band the Jazz Epistles, played on the first African jazz album in 1959. Masekela's music spoke back to Apartheid (see "Soweto Blues" and "Bring Him Back Home (Nelson Mandela)") while also adding to the palette of jazz innovation by incorporating mbaqanga, a musical style rooted in rural Zulu culture.
Brazilian jazz also draws upon a mix of indigenous influences, citing choro, samba, and bossa nova as its foundational sounds and styles.  Renowned Brazilian jazz artist Laurindo Almeida fused classical, jazz and Latin styles to create the elements of "jazz samba" music, and is considered a pioneer of bossa nova. Though born in Philadelphia, PA, saxophonist Stan Getz is credited with popularizing Brazilian jazz in the U.S. and beyond. Getz regularly recorded and toured with Brazilian musicians and perhaps most famously is known for the 1964 recording of "The Girl from Impanema" that appeared on Getz/Gilberto, an album written and recorded with Brazilian singer and guitarist João Gilberto. 
The starting point for jazz in Iran is marked as occurring in the 1960s as a result of the political push for secularization by Shah Pahlavi and performances by Duke Ellington's orchestra across the country. Though the revolution of 1979 slowed the import of jazz and other western cultural products, there remained an underground network of jazz musicians who performed covertly until they and others could once again play in public in the 1990s. That is, so long as they were men. Rana Farhan is a singer who writes about her home country Iran and identifies Persian poetry as an inspiration for her lyrics, but she lives in New York City. Singer-song writer Maryan Akhondy formed Paaz, a multinational band that combines western jazz and Persian music to create hybrid arrangements of songs that were popular on Iranian radio during the 1960s. Like Farhan, Akhondy's band and many others who draw inspiration from Persian music do not perform in Iran.
Plugged in or acoustic; brass, percussion, or woodwind; English, French, Arabic, or Portuguese, the sounds of jazz that travel beyond borders are as varied as the musicians and the instruments they play. Now celebrated in more than 40 countries, JAM offers an opportunity to explore cultural dynamics that inform jazz music across places, as well as the idiosyncratic ways in which jazz artists reimagine and perform their local for the global. Whether streaming the Cairo International Jazz Festival, downloading a live recording from the Jakarta Jazz Festival, or using digital recording and editing software to make your own multi-region influenced demo, aficionados, novices, and the curious can enjoy a hybrid of internationally produced jazz music during April and all year long.
NEH Connections
Jazz Ambassadors: The Untold Story of America's Coolest Weapon During the Cold War is a NEH supported project that tells the story of how jazz artists from the United States traveled the world as cultural ambassadors during the Cold War. Started in 1956, the soft power program that sent Louis Armstrong, Dave Brubek, Dizzy Gillespie, and other musicians abroad to perform with their integrated bands was designed to counter Soviet propaganda about racial inequality in the U.S.
The NEH is a funding partner on the project Dig the Lick: Analysing Large-scale Data for Melodic Patterns in Jazz Performances that couples digital signaling processing and data analysis technologies to tell a new story about jazz history. One of the many questions this project asks: To what extent are the improvisations of jazz musicians rooted in a new or formalized association and familiarity with known patterns, or licks? At this crossroads, researchers are seeking to answer questions about where and how improvisation comes about by analyzing historical and cultural context, as well as the social interactions of musicians within and across places.
The Jazz Loft Project is a NEH grant supported, multimodal project archived by the Center for Documentary Studies at Duke University. Users will find 10 episodes from a radio series, photographs, a jazz history timeline, recordings from the 1950s and 60s, and biographies of jazz scholars, writers, and musicians.
Peter Gerler's "When Jazz Moved to Chicago: King Oliver and the Great Migration," HUMANITIES, Spring 2019, Volume 40, Number 2.