Lesson Plan
Lesson 2: Scrooge as He is Revealed during the Ghostly Experiences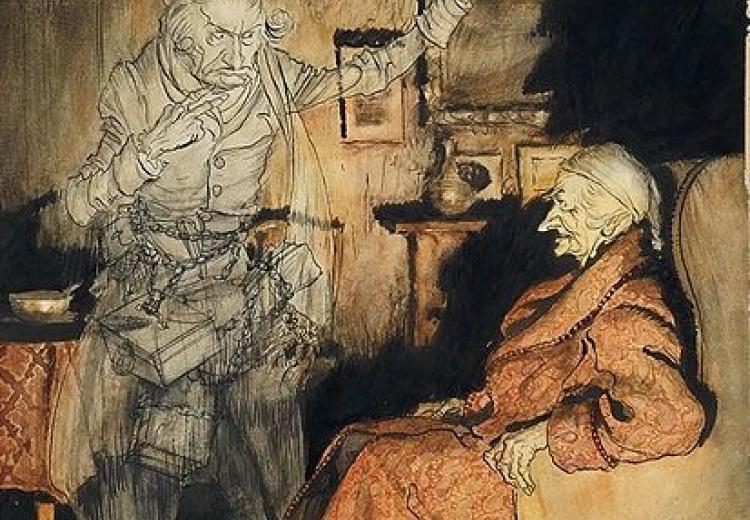 As students read the entirety of A Christmas Carol, they will undoubtedly note that the novel is organized around the visits of the ghosts promised by Marley. The apparitions all focus on what Scrooge himself lacks—family, love, companionship, good will, happiness regardless of wealth; his responses illuminate much about his character. While Dickens through the narrator makes many direct statements about the protagonist, the text also enables readers to infer insights that make it clear that Scrooge is not a flat caricature of a miser but a character of some complexity. 
In stave 2, the Ghost of Christmas Past takes Scrooge on a journey through the past, including an unhappy childhood and a failed romance. In stave 3, the Ghost of Christmas Present leads Scrooge on a journey through various scenes of the present, most notably and lengthily, celebrations at the homes of the Cratchits and of the nephew and his wife. Stave 4 features the Ghost of Christmas Future and presents a dire possibility for Scrooge. Clips from movies scenes of the ghostly visitations can be very useful as a preliminary activity to help students to visualize events in the story.
Guiding Questions
What does A Christmas Carol teach us about life and humanity?
How does Dickens use symbolism throughout A Christmas Carol?
Learning Objectives
Analyze Scrooge's experiences during his encounters with the Ghosts of Christmas Past, Present, and Future.
Evaluate how Dickens used both direct and indirect characterization to illuminate Ebenezer Scrooge.