Curriculum
Using Textual Clues to Understand A Christmas Carol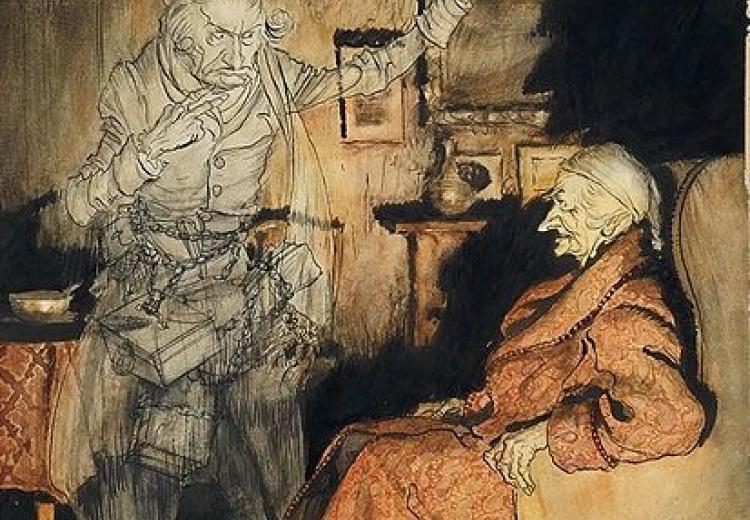 "I have endeavored in this Ghostly little book, to raise the Ghost of an idea, which shall not put my readers out of humour with themselves, with each other, with the season, or with me."

— Charles Dickens, preface to A Christmas Carol
Charles Dickens first published A Christmas Carol in December 1843 and the book won instant popularity. The proliferation of film adaptations during the holiday season continually demonstrates the timeless appeal of this story. Its brevity and memorable characters make it a good choice to introduce young students to Victorian fiction and to facilitate discussion of themes that transcend philosophical and religious differences. Dickens tells the story of a man transformed from cynical and mean-spirited loneliness to generosity and peace, conveying insights echoed by countless stories, poems, films, and popular adages, e.g., "I never saw a hearse with a luggage rack," and "You can't take it with you."
In Lesson 1, students focus on the first stave of the novel as they identify the meanings of words and phrases that may be unfamiliar to them. This activity facilitates close examination of and immersion in the text and leads to an understanding of Scrooge before his ghostly experiences. In Lesson 2, students examine Scrooge's experiences with the Ghosts of Christmas Past, Present, and Future and discover how Dickens used both direct and indirect characterization to create a protagonist who is more than just a stereotype. In Lesson 3, students focus on stave 5 as they identify and articulate themes that permeate the story.
Guiding Questions
How does Dickens reveal the changing character of Ebenezer Scrooge?
How does Dickens' use of connotation, denotation, and direct and indirect methods of characterization present and extend the novel's themes?
What does A Christmas Carol teach us about life and humanity?
Learning Objectives
Analyze the text to identify characterization, plot, themes, and conflicts.
Evaluate the decisions made by Ebenezer Scrooge and how his past and present come together.