Student Activity
A Teacher's Guide for Shakespeare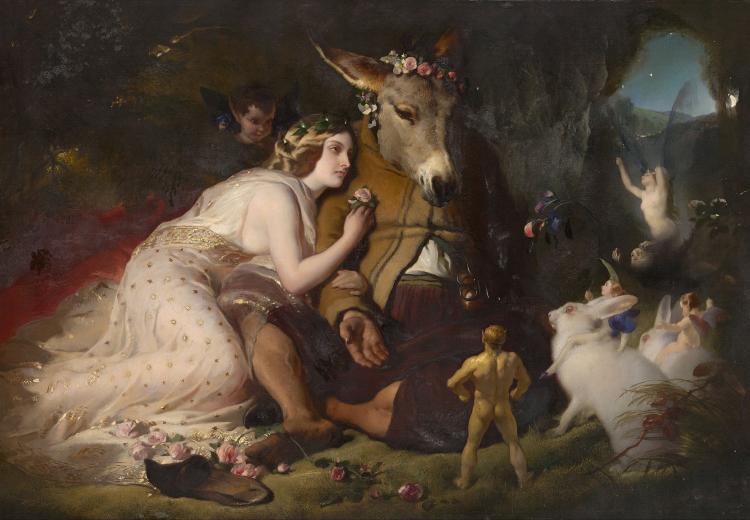 "If music be the food of love, play on." Twelfth Night, (1.1.1)
"Cowards die many times before their deaths; the valiant never taste of death but once." Julius Caesar, (2.2.34-35)
For more than 400 years, Shakespeare's 37 surviving plays, 154 sonnets, and other poems have been read, performed, taught, reinterpreted, and enjoyed the world over. In the interest of contemporary connections for teachers and students, this Teacher's Guide includes ideas for bringing the Bard and pop culture together, along with how performers around the world have infused their respective local histories and cultures into these works. Lesson plans and resources are included, as well as NEH supported projects that advance research and teaching of Shakespeare in classrooms and for the public.
I. Teaching Shakespeare with Pop Culture
The Bard and Television
One does not have to go to a theater or a park to see Shakespeare inspired performances. Popular cultural adaptations have been accessible for years through television, movies, and digital media. The Fox television series Empire, for example, began as a show premised on a father who has created a situation in which his three sons must earn the privilege of inheriting his recording company. A long time NEH partner, the Folger Shakespeare Library's Shakespeare Unlimited podcast series includes an interview focused on the connections between Empire, King Lear, and a mix of other Shakespearean references and themes.  
The Bard and Hip Hop
How we read someone else's words compared with how we hear them gives space for reinterpretation and meaning making that provides life and longevity to those works. Phrasing, rhyming, emoting; poems and songs both use metaphors, figurative language, similes, word play, and a number of other rhetorical and literary devices to express and communicate. Arguably the world's most popular musical form, hip hop does all these things (and with a beat). Look to the The Hip-hop Shakespeare Company (THSC) in London for creative interpretations of the Bard that bring a 21st century twist to the classic works. In the U.S., The Q Brothers Collective has received commendations across the country and beyond for the hip hop stylings that shape their reimagining of Shakespeare and other theatrical productions.
The Bard and the Global
The famous Globe Theatre in London has been a home for performances of Shakespeare's plays for centuries. But, as we know, "all the world's a stage." MIT's Global Shakespeares archive is a rich collection of videos and performances from around the world, with essays and analysis, and other resources for teaching and learning about Shakespeare. Consider what fresh perspectives we gain when Julius Caesar is set in a newly independent African nation? Or what do we learn about history and culture if characters in Romeo and Juliet come from different ethnic groups or nations? Why was Macbeth banned in Thailand?
II. EDSITEment Resources
Shakespeare's Romeo and Juliet

Science, Shakespeare, and the STEM Humanities
Shakespeare Uncovered Returns!
III. NEH Connections
Folger Shakespeare Library
Since 1984, the National Endowment for the Humanities has supported the Teaching Shakespeare Institute at the Folger Shakespeare Library. Each summer, the K-12 teachers who attend the institute examine Shakespeare's work from three essential perspectives: scholarship, performance, and curriculum.
Shakespeare in American Life
The Folger Shakespeare Library's radio documentary Shakespeare in American Life explores the English language's most important playwright and his influence on American performance, politics, and popular culture. Each hour-long episode, narrated by Sam Waterston and produced by Richard Paul, deepens our understanding of Shakespeare and the American identity.
Theatre for a New Audience (2019 Summer Institute)
Theatre for a New Audience will host K-12 teachers from across the country for a 2019 summer institute entitled "Teaching Shakespeare's Plays through Scholarship and Performance."  Shakespeare scholars and theater practitioners lead this professional development program that integrates text-based scholarship, contextual and original source material, language, and performance in three Shakespeare plays.
IV. NEH HUMANITIES Publications
David Scott Kastan's "Did He Even Know He Was Shakespeare?: What the history of the First Folio tells us about our greatest playwright" (HUMANITIES, January/February 2016, Volume 37, Number 1)
James Williford's "To Be or Not to Be: In a digital archive of Hamlet quartos, classic Shakespearean words come and go" (HUMANITIES, January/February 2014, Volume 35, Number 1)
Ann Meyer's "How Shakespeare Learned to be Shakespeare" (NEH blog post, September 16, 2013)