Lesson Plan
Vengeful Verbs in Shakespeare's Hamlet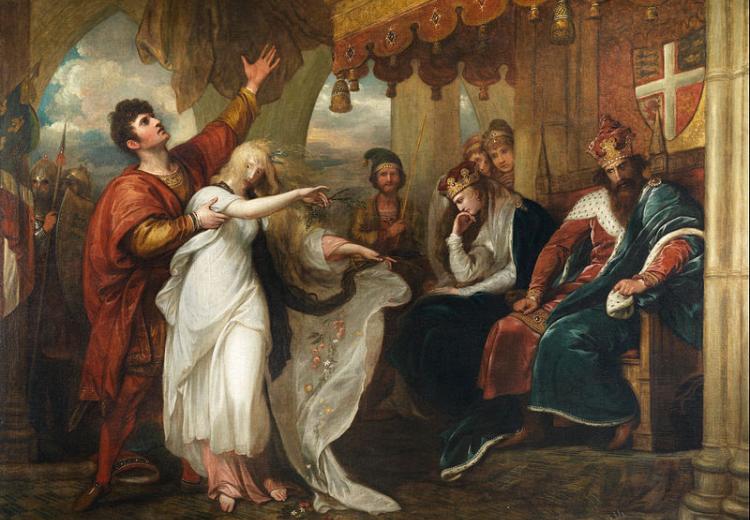 Be hole, be dust, be dream, be wind
Be night, be dark, be wish, be mind,
Now slip, now slide, now move unseen,
Above, beneath, betwixt, between.

–Neil Gaiman, The Graveyard Book
Shakespeare's Hamlet is an excellent source of instruction for students at the middle school level. It is a tale full of mystery and suspense and peppered with elements of the supernatural. Everyone loves a good ghost story! The popularity of the ghosts in the Harry Potter series and in The Graveyard Book attests to the appeal of the paranormal for this age group. These ghosts manifest as translucent spirits, yet they impact the physical world and certainly add life to the story line. Figments such as Rowling's histrionic Moaning Myrtle and Gaiman's mysterious Silas provide guidance for the young adults in their time of need.
What better way to expose middle school students to a first taste of Shakespeare than from the angle of the ghost story? The first time Hamlet sees his father's ghost (Hamlet, act 1, scene 5, lines 13–31) is one of the most dramatic moments in theatre and a prime opportunity to teach the often dry and boring subject of verbs. Through the ghost of Hamlet's father, students receive an introduction to the language of Shakespeare in a context they can understand. In this lesson, they will learn to distinguish generic verbs from vivid verbs by working with selected lines in Hamlet's Ghost scene. Students will then test their knowledge of verbs through a crossword interactive puzzle. In Hamlet's own words: "the readiness is all."
Guiding Questions
How does Shakespeare use verbs to move the scene along?
What distinguishes a vivid verb from a generic one?
Learning Objectives
Identify and define the verbs Shakespeare uses to convey the meaning of the scene
Exchange the verbs from the scene and replace with more vivid and more generic ones to see how that changes intention of the scene
Asess their ability to define vivid and generic verbs used by Shakespeare by solving a crossword puzzle