Media Resource
Voices of Democracy: Women Leaders of the Civil Rights Struggle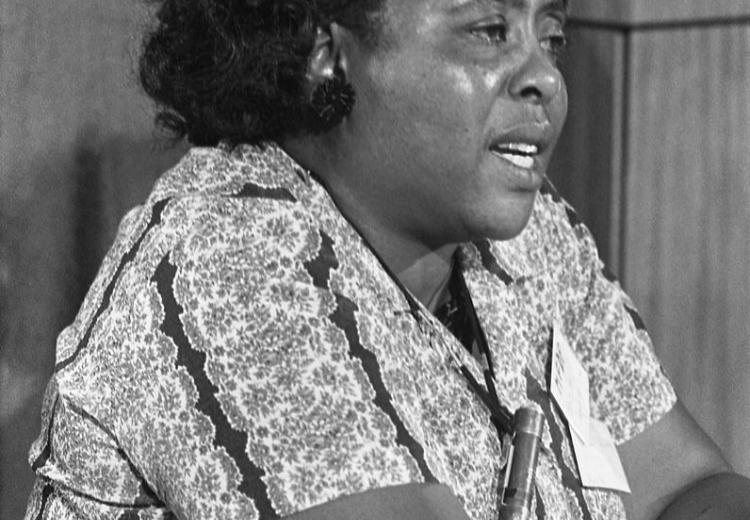 The NEH-funded website, Voices of Democracy (VOD), includes a wealth of resources for studying the role of women in the civil rights movement—from the early nineteenth century through the 20th century. In addition to this resource on Fannie Lou Hamer, VOD's "great speeches" in American history curriculum materials also include Sojourner Truth, Ida B. Wells, Maria W. Miller Stewart, Ella Baker, and Shirley Chisholm, among others. 
Classroom Connections
One of the more interesting artifacts on the site is an audio recording of a speech by Fannie Lou Hamer, an important yet often overlooked civil rights activist from the Mississippi Delta.  Born in 1917, Hamer was the youngest of twenty children in a family of sharecroppers working a plantation outside of Ruleville, Mississippi.  After being threatened, harassed, beaten, shot at, and jailed for her repeated attempts to vote between 1962 and 1964, Hamer helped found the Democratic Freedom Party in Mississippi and was invited to speak at the 1964 Democratic National Convention. Subsequently, she returned home to tell her story at a civil rights meeting near her home, in Indianola, Mississippi.  
In the first segment of the audio recording (39:12), Hamer recounts two powerful stories. In the first, she recalls how she was prevented from registering to vote in Indianola on August 31, 1962.  In the second audio recording (3:54), she reflects back on her arrest in Winona, Mississippi in 1963, after she returned from a civil rights meeting in Charleston, South Carolina. 
Part One: "Can't you see justice in disguise?"
Part Two: "We'll go up this freedom road together"