Lesson Plan
Lesson 5: Consequences of the Sedition Act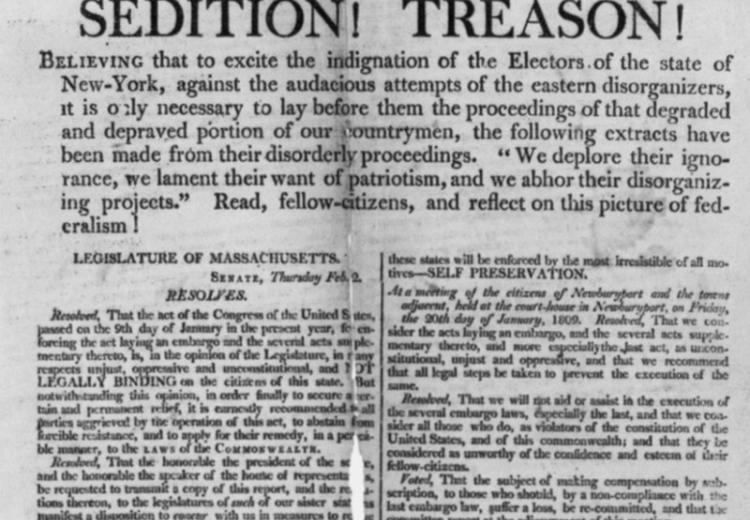 As the end of the 18th century drew near, relations between the United States and France were deteriorating. President John Adams wanted to preserve American neutrality in conflicts between Britain and France. He sent a minister to France who was not received. President Adams then addressed a joint session of Congress on May 16, 1797, expressing his concern about the possibility of war with France and dissension at home caused by France and its supporters. In October, three commissioners appointed by Adams arrived in Paris in hopes of "restoring mutual confidence" between the countries. French Prime Minister Talleyrand's agents—known only as X, Y, and Z, and assumed to be acting on Talleyrand's orders—refused to receive the diplomats. They demanded a bribe, presumably for Talleyrand himself, and a large loan for France. The American people were incensed. War with France seemed inevitable; in fact, the U.S. is often described as being in an undeclared war with France following the XYZ affair.
At the same time, two opposing political parties were developing in the U.S. Tending to sympathize with France in foreign policy were the Thomas Jefferson-led Democratic-Republicans. Their loyalty was called into question by the Federalists, who dominated Congress during Adams's administration. It was a dangerous time both for the security of the young Republic and the freedoms its citizens enjoyed.
The Federalists clashed frequently with Democratic-Republicans who disagreed sharply with what they regarded as a philosophy of "huge public debt, a standing army, high taxes, and government-subsidized monopolies" (The Birth of Political Parties, Gilder Lehrman Institute of American History, a link from the EDSITEment reviewed website History Matters). Could the Federalists, the party in control, wield the power necessary to protect America against those who opposed it without wielding that power against those who opposed them?
The Sedition Act touched off a lively debate about the right of free speech. It also presented an early test case to the citizens and government of the United States. In times of war or imminent danger, how do you balance the need for security with the rights of individuals? How can partisan politics affect the process of shaping security policies?
Guiding Questions
What were some applications and consequences of the Sedition Act?
Learning Objectives
Discuss the consequences of the Sedition Act.
Illustrate the difficulty of balancing security needs and personal freedom using an example from John Adams's presidency.