Lesson Plan
Lesson 2: The Social Security Act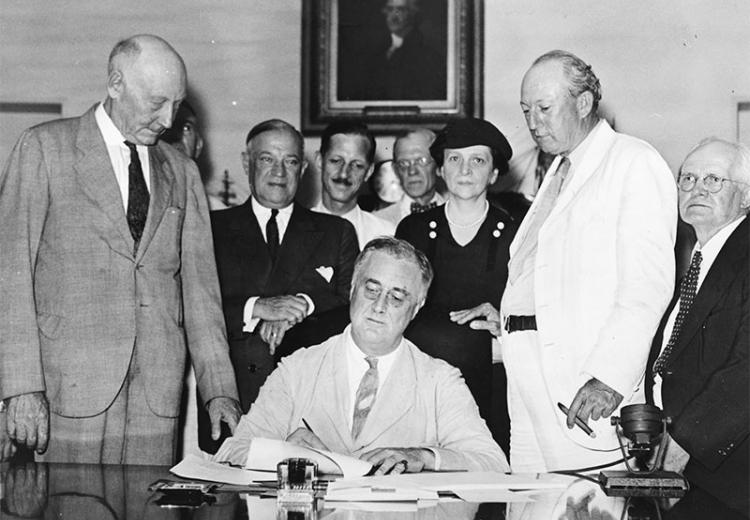 "We can never insure one hundred percent of the population against one hundred percent of the hazards and vicissitudes of life, but we have tried to frame a law which will give some measure of protection to the average citizen and to his family..."

—Statement of Franklin Delano Roosevelt upon signing the Social Security Act, August 14, 1935
During the Great Depression of the 1930s, unemployment devastated the lives of individuals and undercut the nation's economy. Older Americans as a group were particularly affected by this economic crisis. Improvements in medicine and public health meant people were living longer, yet many elderly Americans faced age discrimination that made it difficult to find employment. As a result, the Social Security Act (SSA) was enacted on August 14, 1935 to help older Americans deal with this problem.
This lesson engages students in the debate over Social Security that engrossed the nation during the 1930s. Students will be given the opportunity to examine the 1935 Social Security Act, and to read, listen, and watch the debates surrounding the development of this important legislation.
Guiding Questions
How did the passage of the 1935 Social Security Act transform the role the federal government plays in the lives of the American people?
Learning Objectives
Describe the reasoning of the Roosevelt Administration in creating this act.
Assess the arguments that were made to support or oppose the act.
Understand and analyze the ways in which the Social Security Act changed the role of the federal government in relation to the nation's workforce.
Examine the way the Social Security Act reflected divisions in American society.