Lesson Plan
FDR's "Four Freedoms" Speech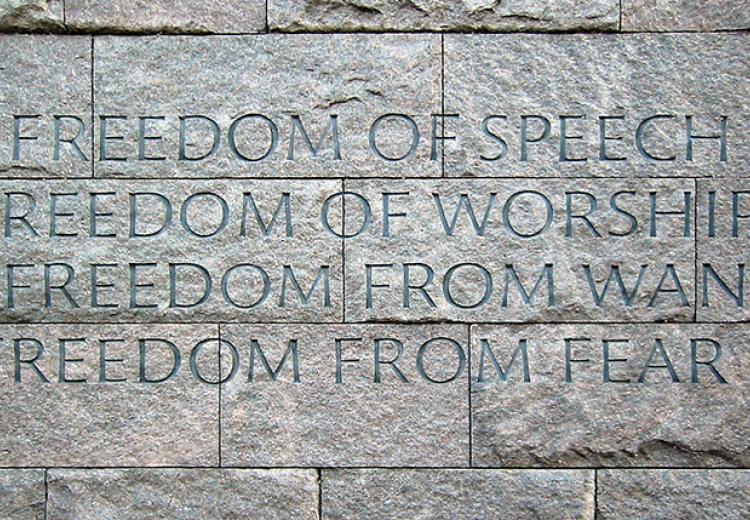 "Sometimes we fail to hear or heed these voices of freedom because to us the privilege of our freedom is such an old, old story."

—Franklin Delano Roosevelt, in his Third Inaugural Address, January 20, 1941. Full text of the speech is available through the EDSITEment resource, Presidential Speeches.
While many of the most frequently-studied statements about freedom were published in the form of written documents such as the Bill of Rights or the Magna Charta, the library is certainly not the only place where Americans encounter references to freedom. On radio and television, on the campaign trail and at press conferences, our public officials appeal to the cause of freedom every day. The world of political oratory provides a living laboratory for studying the place of "freedom" within public discourse. Some of the most thought-provoking—and influential—musings on freedom were first presented not in books or in pamphlets, but broadcast from podiums and grandstands.
NOTE: This lesson may be taught by itself, or it may serve to introduce or complement lessons on any of the books included in the We the People Bookshelf on Freedom. For a brief overview of lesson plans that may be used in conjunction with the We the People Bookshelf on Freedom, please consult EDSITEment's July 2004 Spotlight.
Guiding Questions
What does FDR's "Four Freedoms" speech reveal about the variety of different attitudes, priorities, and political philosophies encompassed by the word "freedom"?
Learning Objectives
Examine the substance, context, subtext, and significance of the most famous portion of Franklin Delano Roosevelt's 1941 State of the Union Address.
Evaluate the influence of political rhetoric and oratory on the ongoing process of refining our definitions of "freedom."
Evaluate longstanding theoretical debates over the scope and meaning of freedom.
Create an original argument regarding the theory and practice of freedom in the U.S.
Lesson Plan Details
College and Career Readiness Standards