Student Activity
Southern Approaches to Europe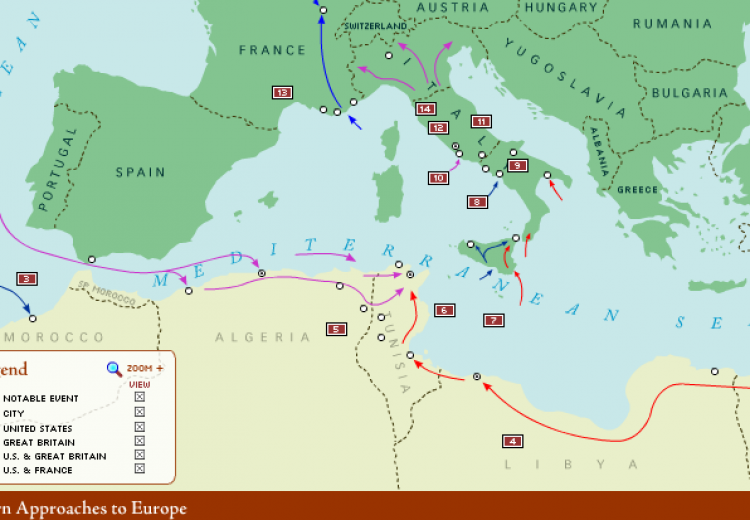 Southern Approaches to Europe walks students through Allied campaigns in North Africa and the Mediterranean during World War II. It is part of the EDSITEment lesson Turning the Tide in Europe, 1942-1944 (grades 9-12).
Extension Activity
While this map provides a helpful overview of the conflict in the Mediterranean, it does not capture the lived experiences of the individuals involved in these campaigns and what they endured. Your task is to create a mini-exhibit for one of the key events on the map, using primary sources to provide a more multi-faceted perspective on the Allied offensive in southern Europe.
On the map are marked 14 key events in the Mediterranean and European theaters of the war. Click on the numbered icons to view the event, and then on "More Info" for additional background on the event. Choose one event to be the focus of your exhibition. This exhibition can be a poster, slideshow, pamphlet, website—the format is up to you. Below are some suggestions for primary source materials that you may wish to draw on or include in your project.
Primary Sources
Oral Histories: Using the Digital Collections of the World War II Museum, find one or more oral histories with WWII veterans from the event you have selected. Searching within the collections for the Mediterranean Theater and European Theater is a good place to start; each interview is also indexed and annotated to make finding information easier. Rutgers University also has an archive of WWII oral histories, though it is not as robustly indexed.
Newspaper Coverage: Chronicling America provides online access to hundreds of newspapers from this period. Use the advanced search feature to filter results by date. A useful approach is to read the complete coverage of an event in a handful of newspapers, to get a sense for how reporters described the event over time, rather than working with a scattering of articles that appear in a keyword search.
Images: The National Archives have a selection of digitized images with relatively complete metadata. If you look elsewhere for images, try to find those that have information about the photographer so that you can include information about them in your exhibition.
As you create your exhibition, think about which sources you're using, why, and what the medium of the source itself communicates. How many veterans were still alive when the oral history you're using was recorded? What was life like for the photographer of the image you're using? Where was that image published? How did it affect contemporary viewers?