Lesson Plan
Walt Whitman's Notebooks and Poetry: The Sweep of the Universe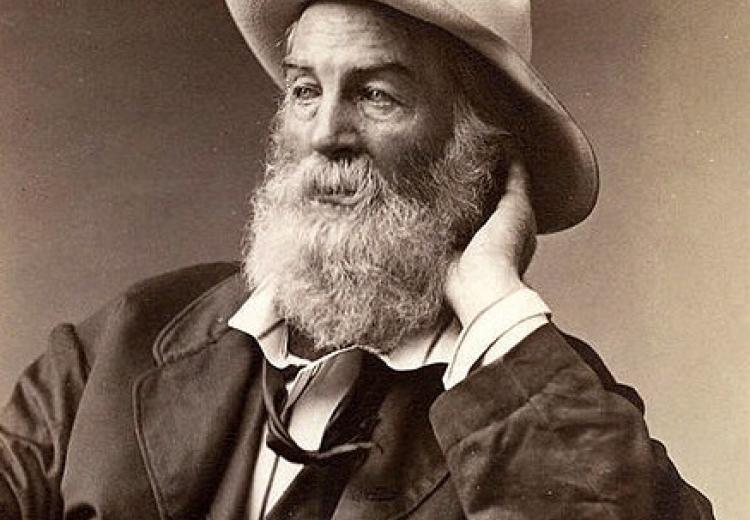 "Small is my theme – yet has it the sweep of the universe."
—Walt Whitman's notebook, page 19 LOC #94

"… no ideas but in things."
—"Paterson" by William Carlos Williams
Walt Whitman sought to create a new and distinctly American form of poetry. As he declared in Democratic Vistas, "America has yet morally and artistically originated nothing. She seems singularly unaware that the models of persons, books, manners, etc., appropriate for former conditions and for European lands, are but exiles and exotics here. …" Whitman wanted his poetry to explore important ideas with "the sweep of the universe" (as the Europeans did), but in authentic American situations and settings using specific details with direct appeal to the individual experience and feeling ("small in theme").
As is suggested by the second quotation above, Whitman's ideas and example had a profound influence on subsequent generations of American writers. But to what extent does Whitman's own poetry fulfill his stated goal of combining universal themes with the closely rendered details of personal experience and feeling? In this lesson, students will attempt to answer that question by working with his words in a variety of media. To help them appreciate his artistic practice, students will also have an opportunity to compose poetry modeled on the poet's characteristic method of using the notebooks as a source of the personal experience and universal themes explored in his poems.
Note: This lesson may be taught either as a stand-alone lesson or as a companion to the complementary EDSITEment lesson Walt Whitman to Langston Hughes: Poems for a Democracy. To make this lesson plan more compelling and fascinating for students, teachers should screen the brilliant Whitman episode from the NEH-funded series Visions and Voices (scroll down to "12. Walt Whitman") at the EDSITEment-reviewed site Learner.org. There is a log-in process required to access the actual movie, but the registration is free and provides entree to a wealth of educator resources. Additionally, PBS's "American Experience" has created a special on Walt Whitman from which additional resources can be drawn.
Guiding Questions
How does Whitman's poetry reflect his attempt to combine universal themes with the individual experiences and feelings?
How did Whitman use his experiences of the Civil War in his poetry?
Learning Objectives
After completing the lessons in this unit, students will be able to:
Give examples to clarify what Whitman meant by "small in theme yet has it the sweep of the universe."
Discuss some of the different media in which Whitman wrote and compare his work in each.
Compose an original poem from a student notebook entry.