Lesson Plan
Steinbeck's Use of Nonfiction Sources in The Grapes of Wrath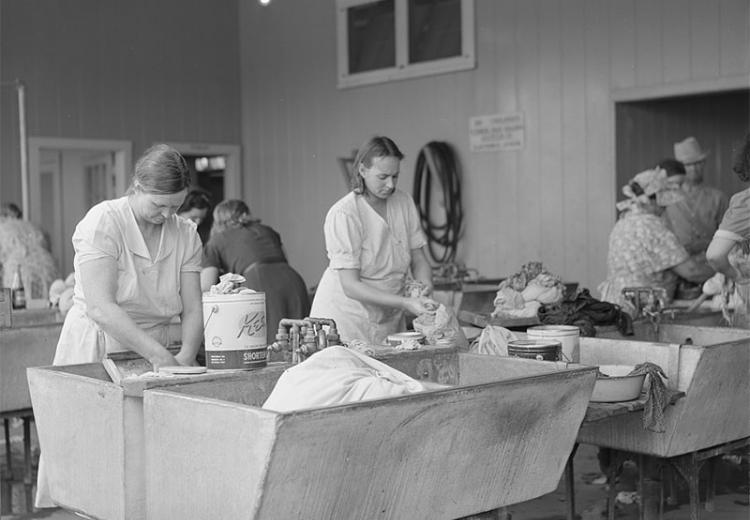 "I tried to write this book the way lives are being lived not the way books are written."

—John Steinbeck
In a 1939 letter, John Steinbeck wrote that his goal for The Grapes of Wrath was "to rip a reader's nerves to rags." Through the novel, Steinbeck wanted readers to experience the life of the Dust Bowl migrants with whom he had spent time. To achieve the authenticity he desired, Steinbeck sought to pile genuine, specific detail upon genuine, specific detail. He found an invaluable source in the official reports of Tom Collins, the director of California's Arvin Migrant Camp. Aware of the criticism the novel's passion and partisanship were likely to arouse, Steinbeck noted in his writer's journal (published as Working Days), "I need this stuff [i.e., Collins's reports]. It is exact and just the thing that will be used against me if I am wrong."
Eighteen of Collins's reports are available from the EDSITEment-reviewed National Archives. Comparing the reports to The Grapes of Wrath offers students a rare look into a writer's process of converting nonfiction material into fiction. What details did Steinbeck choose? How did he use them? What purpose was he trying to achieve?
Guiding Questions
How did John Steinbeck use Tom Collins's Arvin Migrant Camp reports in The Grapes of Wrath?
How does the way Steinbeck uses nonfiction sources affect the reader's perception of the novel's authenticity?
Learning Objectives
List ways a writer of fiction can use nonfiction material to accomplish a specific purpose
Discuss examples of John Steinbeck's use of the Tom Collins reports