Lesson Plan
The Statue of Liberty: The Meaning and Use of a National Symbol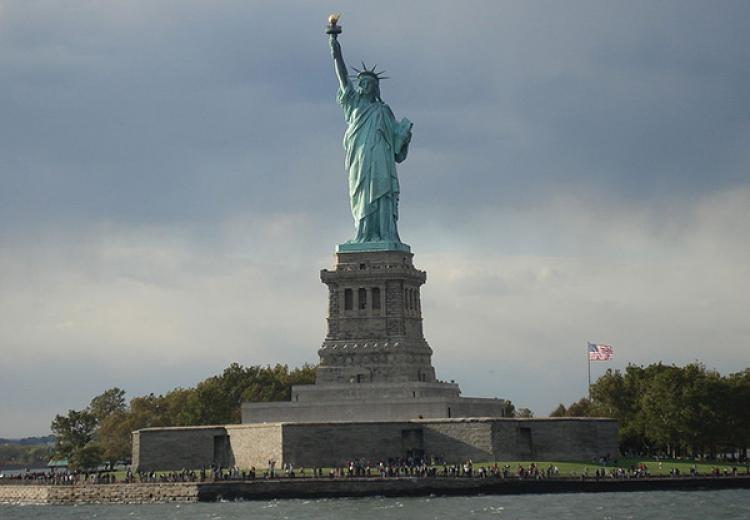 "We will not forget that Liberty has here made her home;
nor shall her chosen altar be neglected."

—President Grover Cleveland, accepting the Statue of Liberty on behalf of the U.S., October 28th, 1886
A symbol stands for an idea. The Statue of Liberty stands in Upper New York Bay, a universal symbol of freedom. Originally conceived as an emblem of the friendship between the people of France and the U.S. and a sign of their mutual desire for liberty, it was also meant to celebrate the abolition of slavery following the U.S. Civil War. Over the years the Statue has become much more. It is the Mother of Exiles, greeting millions of immigrants and embodying hope and opportunity for those seeking a better life in America. It stirs the desire for freedom in people all over the world. It represents the United States itself.

How was the Statue of Liberty designed to be a symbol? How have circumstances enhanced its meaning? Help clarify the nature of symbols for your students as they study the Statue of Liberty, complete research on a national symbol, and use their research to communicate a message of their own.
Guiding Questions
What does the Statue of Liberty symbolize and inspire?
What other national symbols exist in the United States?
What does the Statue of Liberty symbolize to you?
Learning Objectives
Identify symbols used to depict Americans' shared values, principles and beliefs, and explain their meaning.
Identify specific symbols in the design of the Statue of Liberty.
Assess the extent to which the intended meaning of the Statue of Liberty remains relevant today.