Lesson Plan
The Massachusetts 54th Regiment: Honoring the Heroes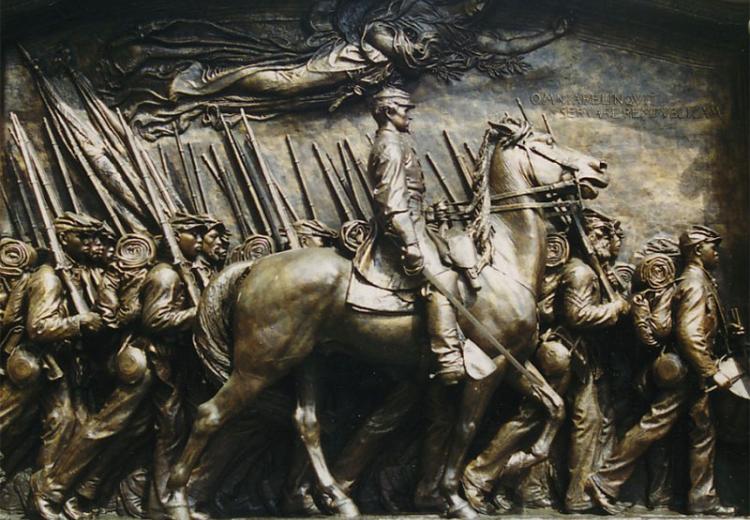 TOGETHER
THEY GAVE TO THE NATION AND THE WORLD UNDYING PROOF
THAT AMERICANS OF AFRICAN DESCENT POSSESS THE
PRIDE COURAGE AND DEVOTION OF THE PATRIOT SOLDIER.

-CHARLES W. ELIOT, Inscription on marble
What's so special about The Robert Gould Shaw and Massachusetts 54th Regiment Memorial in Boston and the men it honors? Augustus Saint-Gaudens's huge monument pays tribute to the Massachusetts 54th Regiment, one of the first African American units to fight in the Civil War. In this lesson students carefully observe and analyze the memorial, read and answer questions about Shaw and the 54th Regiment, pose for a photograph like the men in the sculpture, and then create a comic strip featuring one of the heroes of this regiment. If necessary, point out to students that such a comic is not necessarily funny or amusing
Guiding Questions
How did Saint-Gaudens show the heroism of a military regiment and their commander in the Shaw Memorial?
What characteristics did the men who served in the 54th Massachusetts Regiment possess?
Learning Objectives
Understand how Saint-Gaudens expressed the heroism of the Massachusetts 54th Regiment in the Shaw Memorial.
Discuss the role that Robert Gould Shaw played in the Civil War.
Discuss the impact that African American soldiers, particularly of the 54th Massachusetts Regiment, had on the Civil War.