Lesson Plan
Afro Atlantic: Paths from Enslavement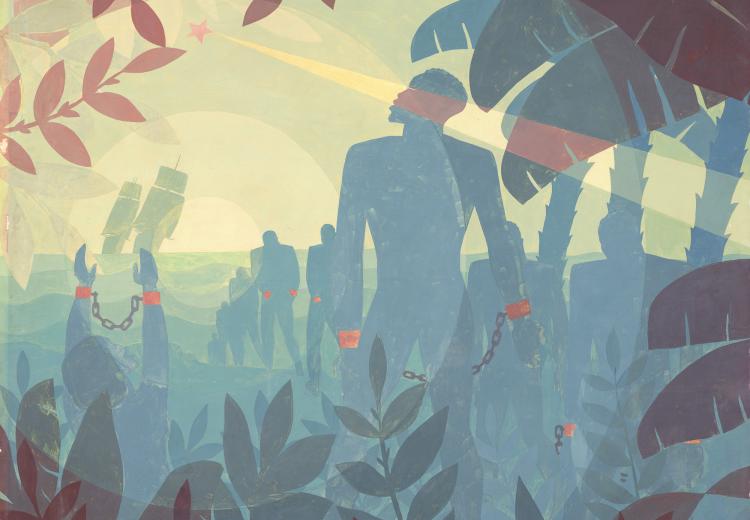 Aaron Douglas, Into Bondage, 1936, oil on canvas, National Gallery of Art, Washington, Corcoran Collection (Museum Purchase and partial gift from Thurlow Evans Tibbs, Jr., The Evans-Tibbs Collection), 2014.79.17
The Harlem Renaissance was a period of prolific cultural production in visual, literary, and performing arts – a period intertwined with the Great Migration, when Black Americans fled Jim Crow oppression in the South for better opportunities in northern cities. Pride in Black identity and celebration of Black accomplishments were central themes during the movement. Aaron Douglas's Into Bondage is a powerful exemplar of Harlem Renaissance visual arts. Debuting on Juneteenth at the Texas Centennial Exhibition, the piece was commissioned as part of the Hall of Negro Life, a special venue to highlight Black progress and potential. Use Douglas's work to introduce the stories of famous Harlem Renaissance figures, including Langston Hughes, and to explore the history and importance of Juneteenth, a holiday celebrating the end of Black enslavement in the United States.  
This resource is drawn from the content of the Afro-Atlantic Histories exhibition organized by the Museum of Fine Arts, Houston, and the Museu de Arte de São Paulo in collaboration with the National Gallery of Art, Washington. All related materials found on EDSITEment have been provided courtesy of the National Gallery of Art, Washington.
Guiding Questions
What impact does forced or voluntary migration have on cultural production?
Why did cities like Harlem become centers of Black cultures and communities?
What is the relationship between celebrating Black culture and commemorating the end of slavery?