Closer Readings Commentary
Teaching the Vietnam Era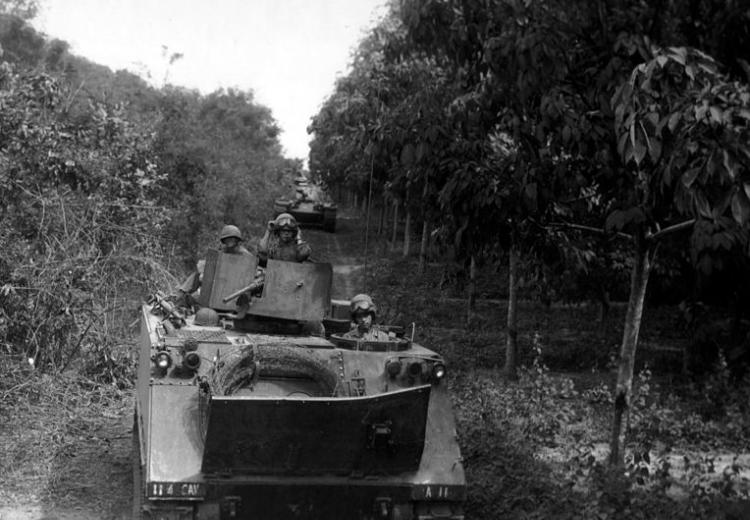 Callie Wright, Education Programs Manager for the Vietnam Veterans Memorial Foundation
"There are always consequences to actions that you take. There are consequences to inaction. And thinking through, asking the questions, "Well, then what happens? What comes next?" is critically important."

—Chuck Hagel 24th Secretary of Defense and Vietnam veteran
As The Vietnam War by Ken Burns and Lynne Novick is now in the rearview mirror it's important to focus on how we will offer students the best information about the Vietnam era. For it is no longer a question of "if" we talk about Vietnam, but rather "how." At the Vietnam Veterans Memorial Fund our mission remains to honor and preserve the legacy of service and educate all generations about the impact of the Vietnam War. All of our education resources are free and available to download for any individual with an interest in the topic. The following sections examine the ways in which educators can bring the Vietnam era to students.
Curriculum: Echoes from The Wall
The draft? Protests? Why were we in Vietnam? How do I show students the link between Vietnam and the civil rights movement? How do we connect issues in Vietnam with issues happening today? It's challenging to determine where to start when teaching the Vietnam era. VVMF offers thirteen different discussion guides about topics related to the era. With these thirteen lessons you can engage students in the topics of film, music, protest, or how Vietnam is still affecting us today.
Interactive: Digital Learning Experience with Your Class
A teddy bear, a zippo lighter, a torn draft card, a letter from mother to son, wife to husband, or daughter to father; these are just a few of the more than 400,000 remembrances that have been left at The Wall in Washington, D.C. These artifacts are currently housed at a National Park Service facility in Maryland and are not on display to the public. However, at the Vietnam Veterans Memorial Fund we believe everyone (students, teachers, anyone who is interested in learning about Vietnam) learns best when able to interact with these items. VVMF offers the opportunity to learn more about topics such as the draft, motivations for entering war, and the ways in which Vietnam still affects our country today through a digital classroom experience. Groups can hear individual stories of soldiers and families that were directly affected by the Vietnam War and will have the opportunity to ask our museum curators and specialists about objects left behind.
Visit Us: In D.C., Your Community, or Online
Dan Bullock, at fifteen years old, is the youngest person on The Wall. Thirty-one sets of brothers, three sets of fathers and sons, and over 1,600 soldiers who are still missing in action are all a part of The Wall in Washington, D.C. Each of the named persons has a family and a story, and they deserve to be remembered. At VVMF we are working to collect all 58,315 stories. Their eventual home will be the The Education Center at The Wall, but for now these stories live online with our Wall of Faces gallery. If you are not visiting or located in or near Washington, D.C., then make sure to pay attention to our mobile education center and traveling wall, aptly called, The Wall That Heals. This year TWTH will start travel on March 1 and make 38 stops all across the United States. Teachers can take students on field trips to see our mobile education center and a replica of The Wall in Washington without ever having to leave their state. If you are looking for a more digital experience, then spend some time with our new app. Students are able to tour The Wall from their smart device. The Mobile Tour uses augmented reality and geolocation technology to educate visitors on various elements of the Memorial, through videos, stories, a game and a first-of-its-kind 360-degree tour on the National Mall.
Do you want to talk about the different ways you can bring Vietnam era education to your community? Great, me too. Please feel free to email cwright@vvmf.org. I look forward to continuing the conversation.