Closer Readings Commentary
Teaching Classic Novels through Popular Adaptations: An Interview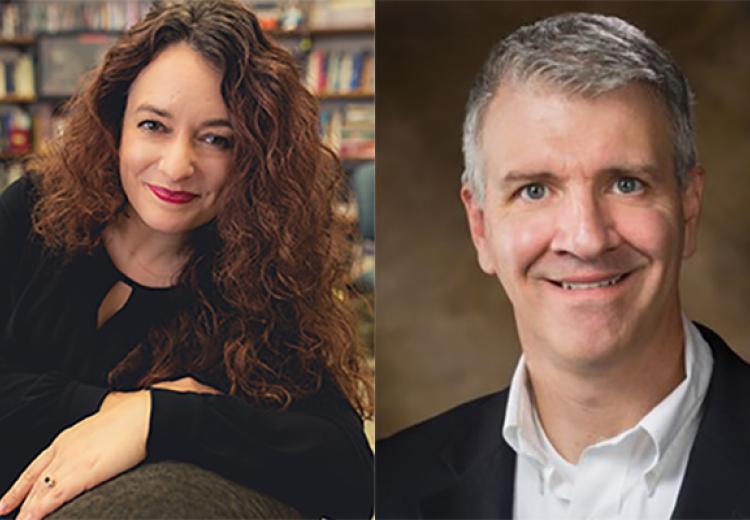 Lissette Lopez Szwydky-Davis* and Sean Connors** received an NEH grant for their Summer Institute for K-12 educators, "Remaking Monsters and Heroines: Adapting Classic Literature for Contemporary Audiences." What follows is a conversation between EDSITEment and Dr. Szwydyky-Davis and Dr. Connors about adapting literature for the classroom.
Teachers are using popular adaptations to teach novels. Are there some really good ways of doing this?  And are there some approaches to avoid?
There are several effective ways to approach adaptations, and our program covers many. The guiding principle to our approach is to see adaptations as stories or works of art on their own terms. The field of literary studies does not typically do a good job in this regard because a leading assumption is that adaptations exist primarily in relation to their source texts. This approach tends to emphasize limited compare-and-contrast exercises that regard the "original text" as more authoritative and "better" than an adaptation. Additionally, simple one-to-one comparisons provide scant attention to different forms and media, specifically how each has its own conventions of storytelling and audience engagement. Students and scholars need to have multimedia literacy, and our program provides that by setting up its case studies as transhistorical and multimedia texts.
Your NEH Summer Program focuses on Frankenstein and "Cinderella." Why did you choose these texts, and what do you hope participants will take back to their classrooms?
Frankenstein and "Cinderella" are great examples of "culture-texts," stories that are constantly being rewritten by multiple authors and reproduced across media. These narratives might have a traceable "origin," and the multiple iterations of the story all contribute to the creation of the culture-text. Our program is interested in bringing together K-12 teachers, so one thing that motivated our choices was to be able to see how these two culture-texts are adapted for different audiences that are not typically the primary audience for the respective works. For example, Shelley's novel Frankenstein is a book for older readers, yet there are countless adaptations for children and adolescents that effectively introduce them to the story long before they are ready to read the novel. Similarly, Cinderella and other fairy tales are largely thought of as stories for children--but approaching the story from multicultural versions or through adaptations aimed at an older readership provides opportunities for exploring how a familiar story can open new worlds and expand its applications.
Mary Wollstonecraft Shelley's Frankenstein has an interesting publishing history. Can you talk about that and explain what you believe teachers can learn from its history that they could apply in the classroom?
Keeping the focus on adaptation, we know that Frankenstein largely circulated through popular stage adaptations in the first decade following its publication in 1818. The 1823 edition, which quadrupled the number of copies of the novel in print, was released in part to capitalize on the success of one of the first stage adaptations, Richard Brinsley Peake's melodrama Presumption; or, The Fate of Frankenstein. The significantly revised 1831 edition published in Bentley's Standard Novels series became the standard print version for roughly 150 years, during which time many more versions of Frankenstein were produced for the stage, film, and other forms. The novel was not widely studied in classes until feminist literary scholars "rediscovered" the novel for academics. Shelley's Frankenstein is now one of the most frequently taught novels across high school and college courses, thanks to the combination of popular history and feminist criticism. It's an excellent case study to think about how the literary canon itself is constantly being restructured and adapted to meet new cultural and educational needs.
Can you speak to the influence of Frankenstein on later works of science fiction stories, plays, and film?
Even though it is primarily a combination of high Romanticism and the popular Gothic, Shelley's novel is often considered one of the first science fiction novels because it pushes the boundaries of the period's scientific possibilities and grounds the story in the material, real world. The Frankenstein story has been regularly adapted to reflect changes in scientific advancements. In the last few decades, we have seen a spike in interest of the Frankenstein narrative as it relates to computers and robotics, specifically with regard to artificial intelligence and genetic engineering. Technology remains one of the most fascinating and frightening aspects of modern life, and this has been the case since the Industrial Revolution, the historical moment when Shelley wrote the novel. In many ways technology continues to drive the idea of the Romantic sublime as it exists today.
The subtitle of Frankenstein is The Modern Prometheus, a reference to the titan of Greek mythology who created man and defied Zeus by giving man fire. How does the story of Dr. Frankenstein parallel the story of Prometheus?  
Like Prometheus, Victor Frankenstein pushes the limits of established norms and crosses existing boundaries by harnessing technologies in hopes of creating new paths in the name of social progress—ambitions that ultimately make them both tragic figures. For the Romantic writers, Prometheus becomes a tragic hero that epitomizes the isolated, artistic genius who rightfully rebels against existing power structures but is nevertheless undone by that rebellion. In the context of our NEH Institute the myth of Prometheus gives us a model to explore adaptation in "high" art and literature. Adaptations are usually thought of as contemporary phenomena grounded in commercial culture. Yet, here we see a clear example of how adaptation is also part of artistic creation in the more canonical sense. Shelley's novel is one of many adaptations of this myth.Ultimately, Shelley updates the story of Prometheus to reflect the combined fears and possibilities of the moment in which she lives. Frankenstein is, in essence, an adaptation that continues to inspire other creators to make their own creatures—be they hideous or beautiful. One of our goals for our NEH Institute is to support teachers participating in this tradition so that they can create opportunities for their students to do the same.
For more information on this institute, funded by the National Endowment for the Humanities, please visit https://monstersandheroines.uark.edu/ and follow us on Twitter at @AdaptLit.
*Lissette Lopez Szwydky-Davis is Assistant Professor of English at the University of Arkansas, where she teaches and publishes in the areas of nineteenth-century British literature and culture, adaptation studies, cultural studies, and gender studies, as well as professionalization for arts and humanities students. You can follow her on Twitter at @LissetteSz.
**Sean P. Connors is Associate Professor of English Education at the University of Arkansas, where he works with preservice English teachers and writes about young adult literature, graphic novels, and new literacies. You can follow him on Twitter at @profconnors.