Closer Readings Commentary
Slavery in the Colonial North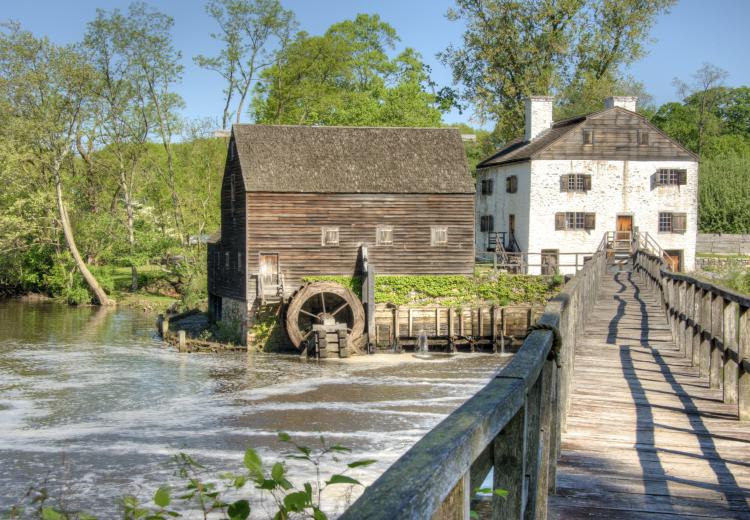 Philipsburg Manor, located in Sleepy Hollow, New York, is a historic site owned and operated by Historic Hudson Valley. The site tells the story of the 23 enslaved Africans who were the only full-time, year round residents of the Manor, and whose forced labor was the backbone of the Philipse's international trading empire. In July 2019, Philipsburg Manor will host a summer teachers' institute on Slavery in the Colonial North for K-12 teachers. For more information, visit www.HudsonValley.org and the People Not Property interactive documentary website. 
From period documents that describe the disposition of
the estate of Adolph Philipse:

"Sam—8 years old—Sold at Public Vendue for £62 to Abraham DePeyster of NYC, 19 April 1750.
Dina (and Suckling Infant)—Sold to Adrian Hoglandt for £65, 08 May 1750."
Following the death of Adolph Philipse, twenty-three enslaved Africans, including 8-year-old Sam, and Dina with her infant child, were sold from Philipsburg Manor's Upper Mills site to new owners. These individuals and family members were treated as property by wealthy merchants in 1750 but are remembered here as people by museum visitors and educators and historians. Today Historic Hudson Valley tells the story of those enslaved Africans who were recorded in probate inventories, wills, and newspaper advertisements as skilled millers, boat pilots, dairy maids, and farmers, but who were also parents, children, and relatives within their own community.

Museum visitors who ask "How were the enslaved people treated here?" may have preconceptions of a "better" life for persons under enslavement in the colonial North, compared to those who labored on southern plantations. But period documents shared with interpretive context—in this case the breakup also of a community formed through enslavement—provide a harsh and sometimes complex answer to that question. To Adolph Philipse, the master miller Caesar was property, responsible for production of 15 tons of flour per week for Philipsburg Manor's highly-profitable transatlantic trade business.
While Caesar was little more than equipment in the eyes of his enslaver, he was part of a community of twenty-three enslaved men, women, and children who lived together at Philipsburg Manor. This close proximity doubtlessly fostered both familial relationships—husbands and wives, daughters and sons—as well as fictive kinships between people who formed bonds even without direct familial ties. While historic records at Philipsburg do not document family among the enslaved community, the overlap of names (a man and a boy named Caesar, a Sam and a Samson) suggest relationships. Were these fathers and sons? Uncles and nephews? Or perhaps the naming of an infant boy after a friend or mentor, regardless of family ties. Similarly, the "Men not fitt for work," such as Venture and Billy, as listed on Adolph Philipse's Probate Inventory, likely were among the elder representatives of the enslaved community. They likely passed on languages, customs, and practices of the various cultures of Western Africa and Madagascar to those who were born into slavery in New York.
This community at Philipsburg Manor was dissolved when Adolph Philipse passed away and his business was dissolved. To the executors of his estate, the enslaved men, women, and children were assets to be divided up, regardless of family relationships. Historic documents, including bills of sale, indicate that Caesar remained at the mill site as part of a real estate transaction, while other members of his community, including the two-year-old boy who shared his name, were sold to new enslavers.
With its focus on the story of enslavement in the colonial North, Philipsburg Manor is an important site for regional school groups to connect with their classroom learning as well as for public visitors who may not previously have had the opportunity to discuss the subject of slavery in an educational setting. Participants in the 2019 Slavery in the Colonial North Teachers Institute will draw upon Historic Hudson Valley's experience of 20 years of interpreting with school and public visitors to discuss how to introduce this important but difficult subject in their own classrooms. This experience includes a wealth of historical knowledge from established and ongoing research, and the skills that have been developed to help students engage with this subject. Historic Hudson Valley's resources will be an invaluable tool from which teachers can develop their own curriculum units, and the Institute will model a supportive, respectful environment in which participants can grapple with this vital, complex subject in a constructive and meaningful way.
EDSITEment's lesson on Slavery and the American Founding: The "Inconsistency not to be excused" is a wonderful place to pair with the content and lessons that can be learned at Philipsburg Manor and as a part of the NEH Teacher Institute, Slavery in the Colonial North.
Reading Set C and D provides historical context to the issue by going through some of the obstacles for emancipation and the economic interests for slavery.  These interests tie closely to the story told at Philipsburg Manor as part of the Slavery in the Colonial North teacher institute.  Teachers will learn about the lives of the 23 enslaved Africans who lived and worked at what was a provisioning plantation, and how their role in making the supplies needed for transatlantic trade and keeping the manor running contributed to the local and national economies. This can help the understanding of the political debates about slavery and add a new perspective of the slaves who were caught in the middle. 
In addition to an in-depth exploration of historic content knowledge, the institute also helps teachers prepare to bring this content into their schools and classrooms. Teachers will gain not only a wealth of historical information but also the skills necessary to help their students engage with this subject.