Closer Readings Commentary
Six Hispanic Literary Giants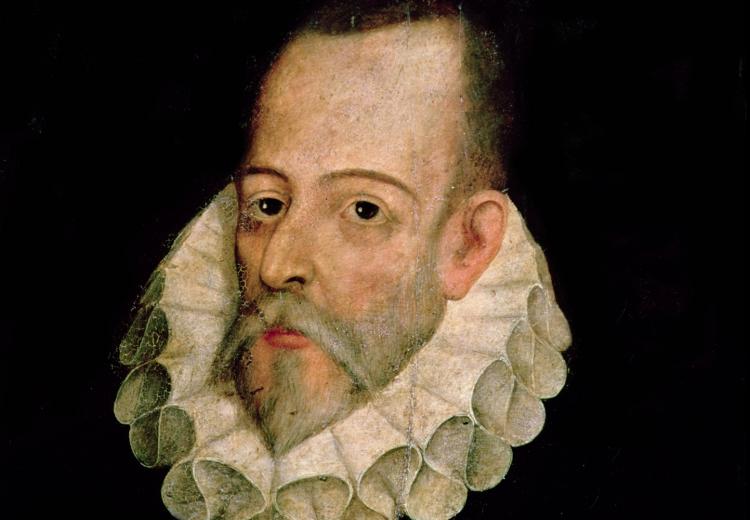 Poetry of the Seventeeth Century
Miguel de Cervantes y Saavedra (1547–1616)
Born in Alcalá de Henares, Spain in 1547, Cervantes is best known as the author of one of the most important novels ever written, El Ingenioso Hidalgo Don Quijote de la Mancha. This masterpiece has been translated into other languages more than any other Spanish text. An article from Humanities Magazine, "One Master, Many Cervantes" explores this celebrated work. Cervantes was also an outstanding poet of the Spanish Golden Age.
Luis de Góngora y Argote (1561–1627)
Born in the city of Córdoba in southern Spain and one of the greatest poets of the Spanish Golden Age (El siglo de oro español), Góngora was an inspiration to another outstanding poet of this period, Sor Juana Inés de la Cruz from New Spain (Mexico). Góngora and his lifelong rival, Francisco de Quevedo, are both considered among the most prominent Spanish poets of this age. Gongora's style is called Gongorismo or Culteranismo, which is a most complex of the Baroque Spanish poetic tendencies. You can learn more about these poetic terms via this EDSITEment-created glossary.
Sor Juana Inés de la Cruz (1648(?)–1695)
Sor Juana Inés de la Cruz, born 1648(?) in San Miguel de Nepantla, Mexico, is legendary. Lauded as the first great Latin American poet, she was published in both the New and the Old Worlds during her lifetime. Her works include plays, essays, as well as poetry and remain among the most important in the Spanish language. A nun, Sor Juana was forced to give up her library and her writing on March 5, 1694.
Poets and Nobel Laureates of the Twentieth Century
Gabriela Mistral (1889–1957)
Gabriela Mistral, pseudonym for Lucila Godoy, was born in Vicuña, Chile, in 1889. Mistral was the first Latin American author to be awarded the Nobel Prize for Literature, which she received in 1945. This award made her not only one of the best known poets of her time, but also an important figure in the cultural history of the Americas as a defender of women's rights in Chile.
Pablo Neruda (1904–1973)
Neruda, born Ricardo Eliezer Neftali Reyes y Basoalto, was awarded the Nobel Prize for Literature in 1971. He was born in Parral, Chile, in 1904. His Nobel lecture can be found (in both English and Spanish) on the Official Page of the Nobel Prize. It can also be listened to in Spanish, through the same page. There is more to be learned about Pablo Neruda through the EDSITEment-reviewed resource Academy of American Poets.
Octavio Paz (1914-1998)
Paz was awarded the Cervantes Award in 1981, the most prestigious award for Spanish writers and second only to the Nobel Prize, which he would receive in 1990. He was born in Mexico City in 1914.