Closer Readings Commentary
Fallingwater—Frank Lloyd Wright's Powerful Union of Architecture and Nature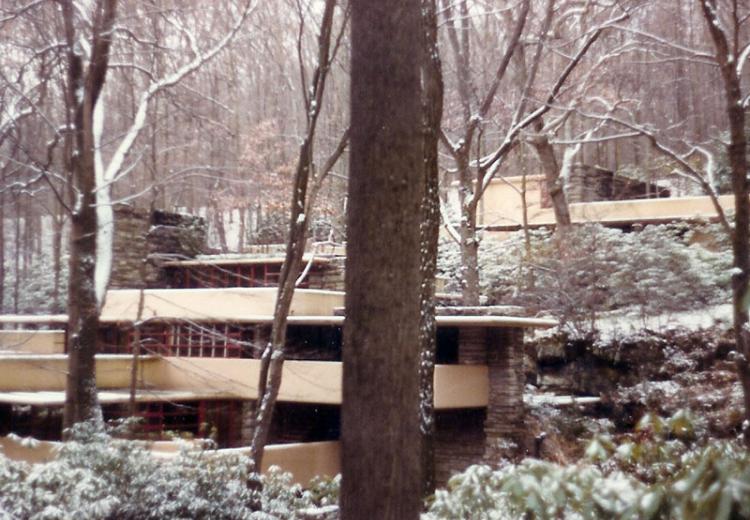 "Fallingwater in its setting embodies a powerful ideal — that people today can learn to live in harmony with nature."

—Edgar Kaufmann, Jr.
Each summer thousands of vacationers visit Fallingwater in the mountains of southwestern Pennsylvania. This house is architect Frank Lloyd Wright's potent union of art and nature. Hovering over a thirty-foot waterfall with cantilevered decks extending it into the surrounding forest, it seems a part of its natural site. The Picturing America website's gallery includes information and teaching activities on this iconic structure in its Educators Resource Book.
The Western Pennsylvania Conservancy now owns and protects Fallingwater and its surroundings, but in the 1930s this forest was a camp ground for Pittsburgh department store owner Edgar Kaufmann's family, friends, and employees. They enjoyed hiking the woods, dipping in the swimming hole, picnicking, fishing, and just listening to the rushing stream and waterfall. However, when the road near their aging cabin was paved and traffic increased, they wanted a more modern year-round retreat farther off the beaten path.
They approached architect Frank Lloyd Wright to design a modern home for them. As Wright walked the property in 1935 with Edgar Kaufmann, Sr., he noted the shape of the land and how boulders stacked on top of each other with some projecting over the stream. When Kaufmann showed Wright his favorite spot, the waterfall, Wright decided to cantilever the house over the falls. Although Kaufmann imagined a house with a view of the falls, Wright envisioned the Kaufmanns living with the falls. Wright explained, "I want you to live with the waterfall, not just to look at it, but for it to become an integral part of your lives." The sound of falling water filled the house, as did humidity. Because the house is directly over running water, it had problems with mold. "The senior Mr. Kaufmann called Fallingwater Fallingwater "a seven-bucket building" due to its leaks, and nicknamed it "Rising Mildew." Despite these problems, it has become one of America's and Wright's most prized architectural treasures. The Fallingwater website describes how this home was conceived, created, and conserved. It includes many teaching materials and photographs.
Architect – Frank Lloyd Wright
Frank Lloyd Wright was born in Wisconsin on June 8, 1867. Sometimes he is associated with the International Style of architecture. Buildings of this style have little ornamentation or decorative flourishes and create an impression of space enclosed by thin walls. He is known for his organic architecture, designs that seem to grow from their site and feature natural materials.
The Robie House near Chicago, an example of a residence in the "Prairie school" movement, hugs the ground with horizontal lines that echoes the contours of the Midwest prairie. Wright admired Japanese architecture and had designed the Imperial Hotel in Tokyo. In addition to buildings he designed furniture, stained glass, fabrics, and even dinnerware. When Wright died at 92 in his Phoenix, Arizona home, over 530 of his designs had been built. Believing that form and function should be one, his architecture and ideas continue to influence how we live.
The PBS Frank Lloyd Wright site is a companion to Ken Burns and Lynn Noick's documentary on his life and work. It contains his biography, drawings, and blueprints, and teaching resources. The website of the Frank Lloyd Wright Trust, based in Chicago and dedicated to the preservation of Wright's architectural heritage, contains extensive background on the architect, an architectural glossary, and images of world architecture.
Architecture
Fallingwater embodies Wright's concept of architecture as an art capable of changing how we live. He believed people derive "sustenance from the atmosphere of the things they live with." Wright designed homes to reflect America's democratic values and human dignity rather than ones based on traditional European architectural styles. He destroyed boxy rooms by creating an open floor plan and extending views outwards through glass window walls.
At Fallingwater the stream and surrounding forest become part of Wright's architectural statement uniting powerful art with powerful nature. To integrate the house graciously into this site, Wright mimicked the shape of the Allegheny Mountains' rock ledges by stacking decks and constructing the chimney core of local sandstone laid to imitate natural stone layers. This massive stone core stabilizes the cantilevered balconies anchoring the house to the stone ledge on which it is built.
Architecture Activities
Try constructing cantilevers from straws as suggested in the PBS children's program, ZOOM activity, Cantilever.
The Nuts and Bolts of Architecture, a lesson plan on the Fallingwater website, suggests teaching students the difference between post and beam construction and cantilevered construction by stacking and balancing books. First students support one book between two others using post and beam construction. Then they build a diving board or cantilever to discover how counterbalancing can help support weight.
Students can debate who should decide a building's design — the client or the architect. Do students think that the person who will live in the building should have the final say about its design? (Kaufmann thought he would like to look at the falls.) Or, should the professional architect determine how the client will live in the house? (Wright thought the family should live with the falls rather than just looking at them.)
Featured EDSITEment Lesson Plans
Featured EDSITEment Websites
Author: Kaye Passmore, Ed.D, Art education consultant, Corpus Christi, Texas