Franklin D. Roosevelt, 32nd U.S. President, is born
Lesson 1: FDR's Fireside Chats: The Power of Words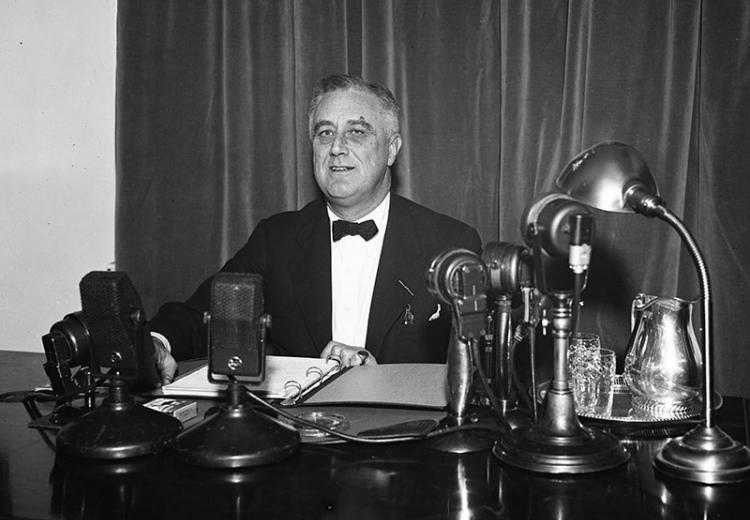 We live in an era of instantaneous and constant communications, yet many of our political leaders seem to have lost the ability to express their ideas to the people they govern. Franklin Roosevelt not only knew how to do that, he elevated the task to that of an art. Many historians, critics as well as supporters, credit the success of much of the early New Deal as much to the delivery of the messages as to their content.
What was it about FDR's voice, the structure of his Fireside Chats, and the relative novelty of radio in 1933 that made his use of this medium so effective and important historically? Why were Americans willing to engage with this unseen but clearly heard man? What can we learn from this example of presidential leadership?
This lesson will focus on two of FDR's Fireside Chats. The first, "The Bank Crisis," was given on March 12, 1933, and the second, "On the New Deal," was given on May 7, 1933.
In this lesson, students will gain a sense of the dramatic effect of FDR's voice on his audience, see the scope of what he was proposing in these initial speeches, and make an overall analysis of why the Fireside Chats were so successful.
Explain how FDR combined the content of the New Deal with the power of his Fireside Chats to move the country forward in 1933
Explain the details of the first two of FDR's Fireside Chats
Analyze and evaluate the overall effectiveness of the Fireside Chats
Question whether the power of radio in 1933 outstrips that of more "powerful" means of communication today and consider how one might go about determining the answer
How did FDR's use of the Fireside Chats enable him to communicate his message in a way that was new and unique at that point in history?
How did FDR's Fireside Chats demonstrate his leadership?
David Gerwin, Richard Miller & Pennee Bender
FDR's Fireside Chats
The Power of Words: FDR's Fireside Chats
Activity One: Listening to the Fireside Chats
Listen to FDR's First Fireside Chat and answer the questions found below.
What were the key elements of the bank holiday FDR announced?
Name 2-3 specific examples of how FDR explains the banking system.
Give 2-3 examples of simple yet powerful imagery and language used by FDR.
Describe the overall effectiveness of the speech.
Do you believe this speech would have been effective in 1933? Why or why not?
Read FDR's Second Fireside Chat and answer the questions found below.
What are 2-3 major problems that FDR addresses in this Fireside Chat?
List 2-3 different programs that FDR proposes in this Fireside Chat?
Which parts of the speech might have been more effective to a 1933 audience if they heard it over the radio rather than read the text as you are doing here? Use your experience of listening to FDR's First Fireside Chat to inform your conclusion.
Debate with your classmates, as instructed by your teacher, whether you think FDR's message would have been more effectively communicated by radio or written word in 1933, and explain why this would have been the case. You are encouraged to draw connections to your experiences listening to political speeches during your lifetime.
History & Social Studies
U.S.:
The Great Depression and World War II (1929-1945)