Student Activity
A Teacher's Guide on Nelson Mandela & South Africa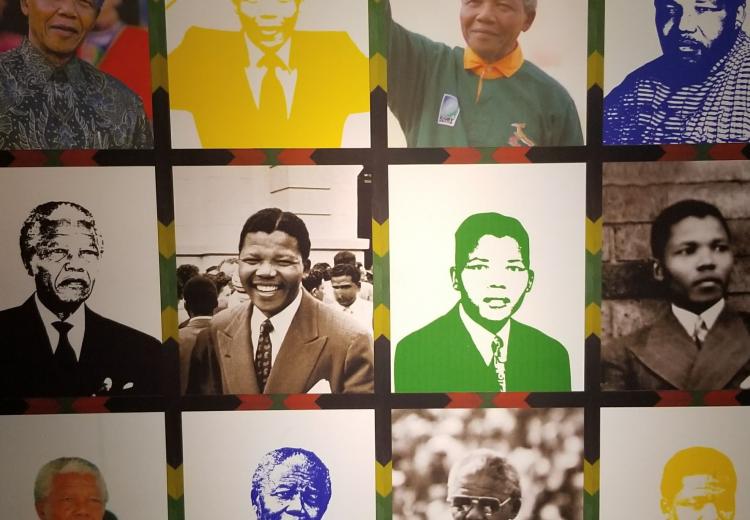 "Education is the most powerful weapon which you can use
to change the world." 
 
—Nelson Mandela, President of the Republic of South Africa (1994-1999)
After more than 30 years in prison and a historic election that for the first time in the nation's history included all citizens, regardless of race, Nelson Rolihlahla Mandela became President of the Republic of South Africa on May 10, 1994. With apartheid officially abolished, Mandela and South Africa as a whole were faced with building a more representative and responsive political system, an inclusive and equitable economy, and social programs that made housing, education, and health care more accessible. This Teacher's Guide includes resources for teaching about the brutality of apartheid, the resilience of the nation's people, the leadership of Nelson Mandela, and primary source materials that will inform discussion about the country's emergence in the world.
I. Compelling Questions
How have empire and race shaped South African culture and politics?
What is Nelson Mandela's legacy?
In what ways have South African and U.S. history intersected?
To what extent has South Africa achieved its post-apartheid goals?
What role should a government play in redressing legacies of social injustice?
To what extent did the Truth and Reconciliation Commission (TRC)  of South Africa achieve its goals?
Could the U.S. benefit from a process similar to the TRC?
What are the accomplishments and challenges of the "born free" generation?
What is the state of post-apartheid South Africa?
II. Background Materials
South Africa: Overcoming Apartheid, Building Democracy
This NEH supported website project offers a rich collection of multimedia resources, curriculum, and primary source filled lessons spanning the 19th and 20th centuries. 
Have you heard of Johannesburg?
A NEH supported PBS Independent Lens film, this site offers an interactive timeline, classroom ready video clips, and primary source materials on the anti-apartheid movement. 
Timeline of Apartheid 
Dating to the mid-19th century, the timeline offers a comprehensive look at laws, events, and turning points in the history of South Africa through 1970.
Apartheid Museum of South Africa
Located in Johannesburg, the site offers access to permanent exhibits and classroom materials, including digitized comic books that tell the history of resistance to apartheid. 
History of Laws in South Africa (1806-2007)
A primary source collection that includes laws passed in South Africa from 1806-1989, records from the 1989-1994 transition, and reports on the post-apartheid era of South Africa's history. 
The Nationalist Party of South Africa (1948)
A resource that provides a look at the political party that implemented and oversaw the apartheid system from 1948 until the start of the 1990s.
The Freedom Charter (1955)
Created by those political organizations opposed to apartheid, this document outlined the core principles of what the majority wanted from the all white government of South Africa.  
Constitution of the Republic of South Africa (1996)
"We, the people of South Africa,
Recognise the injustices of our past;
Honour those who suffered for justice and freedom in our land;
Respect those who have worked to build and develop our country; and
Believe that South Africa belongs to all who live in it, united in our diversity."

 —Preamble to the Constitution of the Republic of South Africa (1996)

The Report of the Truth and Reconciliation Commission (1998)
The TRC was created in 1996 to provide opportunity for families and victims to be heard and to force those who carried out the brutality of apartheid during the 20th century to testify. A controversial process, this report was formally presented when the hearings concluded in 1998. 
"How South Africa Can Do Better at Reversing Apartheid's Legacies" (2019)
Assessments of how the post-apartheid governments have responded to the needs of the nation continue, with questions regarding priorities, successes, and new challenges. This article pairs well with our Seminar/DBQ activity on Mandela's legacy and the state of the nation since the elections of 1994.
III. Teaching About Madiba
"During my lifetime I have dedicated myself to this struggle of the African people. I have fought against white domination, and I have fought against black domination. I have cherished the ideal of a democratic and free society in which all persons live together in harmony and with equal opportunities. It is an ideal which I hope to live for and to achieve. But if needs be, it is an ideal for which I am prepared to die." 
                   
 —Nelson Mandela, April 20, 1964
Rivonia Trial Speech (April 20, 1964) (Audio) 
The above words were delivered by Nelson Mandela during the trial that would send him and others to prison for nearly three decades. The audio recording provided here was the last time the people of South Africa and the world heard Mandela's voice until the end of the 1980s.  
Nelson Mandela's Inauguration speech (May 10, 1994) (Video)
"Never, never and never again shall it be that this beautiful land will again experience the oppression of one by another
and suffer the indignity of being the skunk of the world."

 —Nelson Mandela, May 10, 1994

Nelson Mandela Foundation
The Education Hub provides comics, a children's' edition of Madiba's autobiography, a collection of quotes, and more for K-12 classrooms. 
Mandela Day
July 18th (the day of Mandela's birthday in 1918) is treated like a national holiday in South Africa. Learn ow the nation continues the work Mandela championed and consider how this relates to the questions posed above about South Africa today. 
Speeches given by Nelson Mandela
A collection of Mandela's speeches dating back to 1951, along with tributes and other resources presented upon his death.
Long Walk to Freedom: The Autobiography of Nelson Mandela
A digital version of Mandela's 1994 autobiography. 
"His Day is Done" 
A poem written and read by Dr. Maya Angelou about Nelson Mandela upon his death in 2013.
Mandela: An Audio History
Produced by the NEH supported Radio Diaries, this award winning audio project provides insightful digital resources that span the 20th century.   
Mandela: An Audio Timeline
Part of the same NEH supported Radio Diaries project, this resource combines audio recordings with a timeline feature about Mandela's life that can serve as inspiration for student projects on this and other topics they study. 
IV. Media Resources about South Africa
Films
A History of the South African Film Industry
A chronology of film and movie technology in South Africa dating back to 1895.
Cry, Freedom (1987)
Starring Denzel Washington and Kevin Kline, this film tells the story of Steve Biko and the student movement in South Africa during the 1960s and 70s.
A Dry White Season (1989)
Marlon Brando, Donald Sutherland, and Susan Sarandon star in this film based on André Brink's 1979 novel by the same title. 
Cry, the Beloved Country (1995)
Based on Alan Paton's 1948 novel, this film stars James Earl Jones and Richard Harris as two fathers on opposite sides of a murder.
Invictus (2009)
Based on events surrounding the 1995 Rugby World Cup in South Africa, the film stars Matt Damon and Morgan Freeman. 
District 9 (2009)
How do we treat people different than us? What are those differences based on? This sci-fi film explores segregation, discrimination, and apartheid-like actions, but with aliens. 
Long Walk to Freedom (2013)
Based on the autobiography by the same title, this biopic stars Idris Elba as Nelson Mandela. 
Winnie Mandela (2013)
Jennifer Hudson plays the titular character who emerged as a leader in her own right when her husband was imprisoned and her country was fighting for freedom.
Becoming Nelson Mandela
Included in the NEH supported Radio Diaries project, this resource focuses on Mandela's biography, with particular attention to the Rivonia Trial. 
Music
Hugh Masekela  "Mandela (Bring Him Back Home)" (Video)
South African musician and anti-apartheid activist, Masekela's song about freeing Mandela became an anthem upon its release in 1987. 
U2 "Silver and Gold" (Video)
The Irish rock band that often takes on global politics released this anti-apartheid song in 1985.
"Boputhuswana is far away
But we know it's in South Africa no matter what they say
You can't buy me I don't care what you pay
Don't ask me Sun City because I ain't gonna play."

— "Ain't Gonna Play Sun City" (1985)
Artists United Against Apartheid "Sun City" (Video)
Sun City was a luxury resort in South Africa that became the target of musicians who wanted to support the cultural boycott that the United Nations imposed on South Africa in the 1980s. Little Steven van Zandt of E Street Band fame organized 49 musicians as the group "Artists United Against Apartheid" to record an album of anti-apartheid songs in 1985.
The Specials "Free Nelson Mandela" (Video)
Released in 1984, this song was played at sporting events, political rallies, and at charity concerts around the world as opposition to apartheid became a global movement.
Soweto Gospel Choir "Freedom" (Video)
This Xhosa and English language album was recorded by the world renowned and award winning gospel choir from the hometown of Nelson Mandela, Archbishop Desmond Tutu, Winnie Mandela, and many more leaders of the anti-apartheid movement. 
Literature
"I see only one hope for our country, and that is when white men and black men, desiring neither power nor money, but desiring only the good for their country, come together to work for it."

—Alan Paton, Cry, the Beloved Country

Bibliography of South African literature
A collection of critically acclaimed literature produced in and about South Africa. 

The Story of an African Farm, Olive Schreiner (1883)

Native Life in South Africa, Sol Plaatjie (1916)

Cry, the Beloved Country, Alan Paton (1948)

When Rain Clouds Gather, Bessie Head (1968)

A Dry, White Season, Andre Brink (1979)

July's People, Nadine Gordimer (1981)

Kafka's Curse, Achmat Dangor (1997)

The Heart of Redness, Zakes Mda (2000)

Country of My Skull, Antjie Krog (2000)

Moxyland, Lauren Beukes (2008)

Collection of South African Poetry (1993)

Anti-Apartheid poems

Shakespeare's Julius Caesar and South Africa (EDSITEment lesson)
V. Connecting the United States and South Africa
"Each time a man stands up for an ideal, or acts to improve the lot of others, or strikes out against injustice, he sends forth a tiny ripple of hope…"

—Senator Robert F. Kennedy, June 6, 1966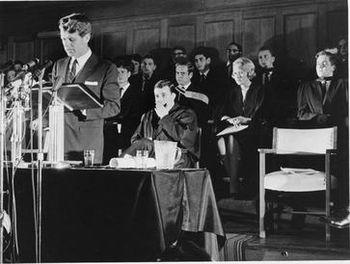 In June of 1966, then Senator and former U.S. Attorney General Robert F. Kennedy traveled to South Africa to meet with students, political leaders, and activists to learn more about apartheid. During his time in South Africa, Senator Kennedy delivered what is known as the "Ripple of Hope" speech at the University of Cape Town. A speech of optimism and humanitarianism, RFK's opening offers a unique comparison between the United States and South Africa.
VI. Seminar/DBQ Activity
Despite Nelson Mandela's accomplishments, his legacy as an activist, leader, and international icon for his work to end apartheid is not a settled issue. How should Mandela be remembered? How do the beliefs he espoused as a political activist compare with his actions as President? How have Mandela's decisions during his one term as president and his influence over ANC policy until his death in 2013 affected the people of South Africa?
Organized around the compelling question "What is Nelson Mandela's legacy?", this collection of primary sources offers an opportunity for students to learn about and discuss who Nelson Mandela was, what he believed, and how others have responded to the ramifications of his actions and policies on the nation's development.