Media Resource
Picturing America: Black Hawk & Catlin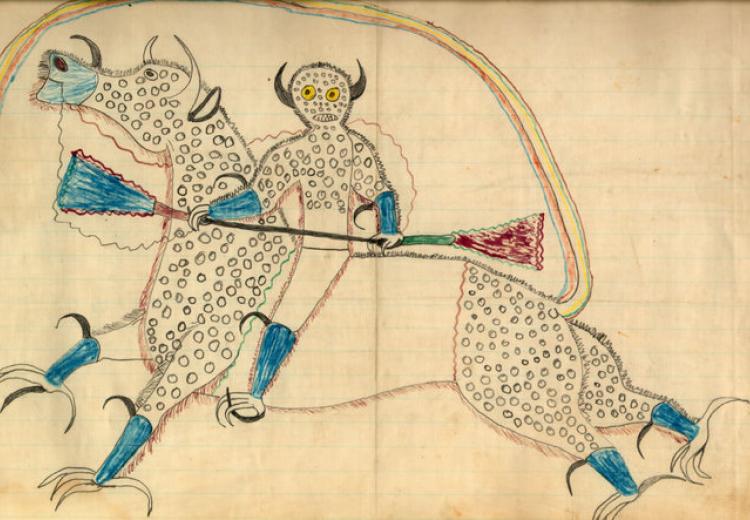 Over the course of the nineteenth century, the U.S. government forcibly removed Native peoples from their lands in the east to lands west of the Mississippi River. Many whites agreed with this policy and yet felt a sense of nostalgia for the cultural losses this policy caused. Among these was George Catlin, who set about creating a visual record of indigenous cultures along the frontier.
Yet, despite the influence that Catlin's paintings have had on non-Native conceptions of indigenous people, many indigenous peoples had long traditions of creating visual records of their history and culture, initially on buffalo hides and later, when buffalo were driven extinct by the westward expansion of white settlers, in ledger books. Black Hawk, a spiritual leader of the Sans Arc, created many dozens of drawings of Lakota social customs.
View the video (6 minutes) from Picturing America.

Access the Picturing America lesson plans for Black Hawk and Catlin.
Classroom Connections
Comprehension Questions
What is Alyce Spotted Bear's frustration with the word "preserve"?
How do Catlin's paintings contribute to narratives of Native American disappearance?
Why did Native artists start drawing in ledger books?
Discussion Questions
This EDSITEment Teacher's Guide to American Indian History and Heritage provides a helpful starting place for discussing Native peoples and questions of representation and voice in the classroom. These artists' work can be use to start a conversation about some of the following questions and themes:
What are common narratives about indigenous people in the United States? How are they perpetuated or countered by these works of art?
How can we understand these images in historical context? What is significant about the conditions in which, and purposes for which, they were created?
What perspectives are offered by each of these paintings? How does the artist's positionality (the social and political context shaping their identity and status) affect their work?