Media Resource
Picturing America: Bierstadt & Diebenkorn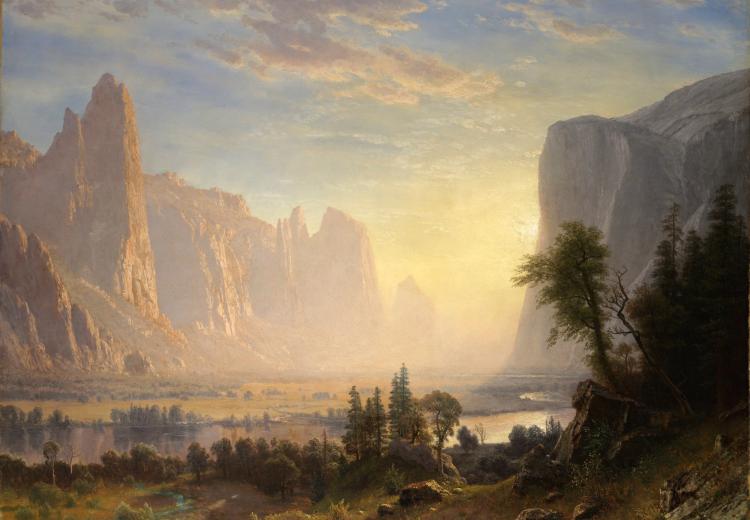 Though Albert Bierstadt and Richard Diebenkorn created these paintings almost 100 years apart, they create a similar sensation of pilgrimage and uplift. Both painted scenes from the West Coast and worked extensively with light to draw viewers into the painting and move their gaze through it. Learn more with Picturing America.
View the video (7 minutes) from Picturing America.

Access the Picturing America lesson plans for Bierstadt and Diebenkorn.
Classroom Connections
Comprehension Questions
How does Bierstadt's painting connect to his historical context?
What is the function of light in Bierstadt's painting?
What similarities are there between Diebenkorn and Bierstadt's paintings? What differences?
What is the function of light in Diebenkorn's painting?
How do both paintings create a sense of pilgrimage?
EDSITEment Resources
While their effect on viewers may be similar, the landscapes Bierstadt and Diebenkorn painted were not. They reflect the tremendous changes wrought on the California environment by a century of settlement and development, changes that were driven into high gear by the completion of the Transcontinental Railroad in 1869. Learn more with the lesson plan The Impact of the Transcontinental Railroad (grades 6-8).
The railroad's effects are visible in the difference between these two paintings, but the railroad itself does not appear. Not so in Edward Hopper's "House by the Railroad," a melancholy reflection on the impact of technology, industrialization, and urbanization in the turn-of-the-century United States. Continue this discussion with the lesson plan Edward Hopper's House by the Railroad: From Painting to Poem (grades 6-8).
The juxtaposition of these paintings offers an opportunity for older students to reflect on broader changes and continuities in U.S. history between 1865 and 1963. One thread to trace is the hundred years between the Civil War and the Civil Rights movement. The following EDSITEment resources can support this conversation: