Robert Frost, American poet, dies; epitaph reads: "I had a lover's quarrel with the world"
Poems that Tell a Story: Narrative and Persona in the Poetry of Robert Frost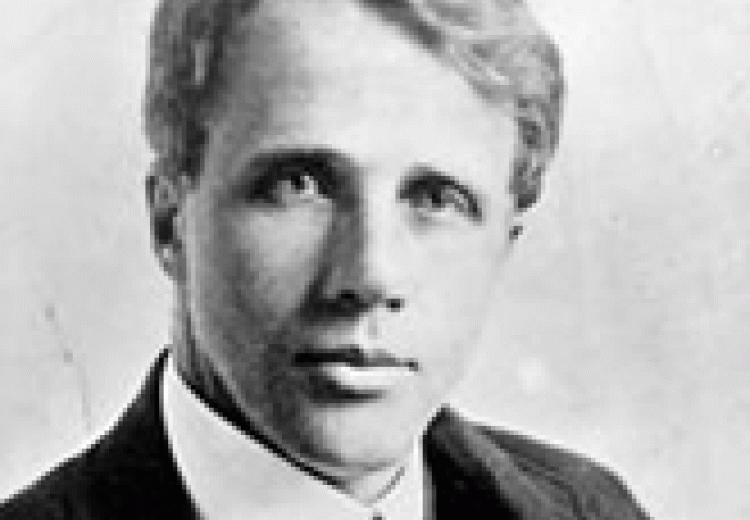 Whose woods these are I think I know.
His house is in the village, though;
He will not see me stopping here
To watch his woods fill up with snow.

--Robert Frost, "Stopping by Woods on a Snowy Evening"
Robert Frost's "Stopping by Woods on a Snowy Evening" tells an invitingly simple story. But as we read and reread the poem, we are drawn into questions and mysteries. Beginning with the oddly tentative note struck in the poem's first line, we are guided by a speaker who, it seems, conceals as much as he reveals. Who is the unnamed person whose woods these are and why is the speaker concerned about that person's presence or absence? Where has the speaker come from and where is he going? What draws him so powerfully to the cold deserted woods he calls "lovely, dark, and deep"?
In the suggested activities below, students explore such questions and mysteries in journal entries that build upon narrative hints in poems chosen from an online selection of Frost's most frequently anthologized and taught works. By analyzing what a speaker (or persona) in one of Frost's poems includes or omits from his narrative account, students make inferences about that speaker's motivations and character, find evidence for those inferences in the words of the poem, and apply their inferences about the speaker in a dramatic reading performed for other class members.
Read and discuss poems by Robert Frost.
Learn the meaning of terms such as "narrative" and "persona."
Draw inferences about a poem's speaker based on evidence in the poem.
Write narratives in a journal that explore inferences about a poem's speaker.
Collaborate in small groups to draw inferences about speakers' character and motives and to gather evidence supporting those inferences.
Present a poem to other students in the class based upon inferences about a speaker's character and motives.
What do the speakers of Frost's poems reveal about themselves through the stories they tell?
Robert Frost's "Mending Wall": A Marriage of Poetic Form and Content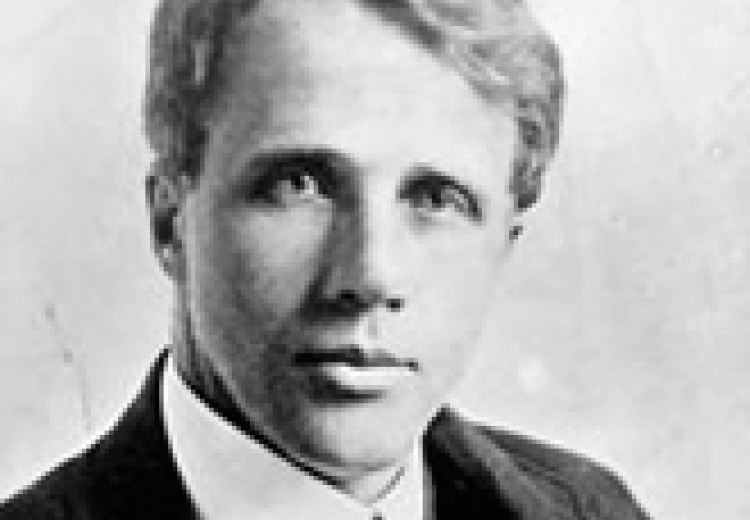 One of America's most beloved and widely read poets, Robert Frost often is studied as a New England narrative poet. In other words, his poems feature a narrator who tells, or narrates, a story. Frost's "Mending Wall," for example, conveys the story of two neighbors who meet and converse over a traditional New England stone wall that needs springtime repair. As a narrative poet, Frost is considered accessible for students and poetry readers of all ages. A close analysis of Frost's poems, however, reveals that Frost indeed is a deceptively simple poet. While Frost's poems initially seem to be fairly straightforward, they really are quite complex in terms of their poetic form and, hence, meaning.
In this lesson, students will study both the content and the intriguing poetic form of Frost's famous poem "Mending Wall." Upon completing the suggested activities below, students will understand the intricate relationship between a poem's content and its form. This lesson will enable students to approach Frost's poetry in a new way and will provide them with analytical skills for reading poetry at large.
Define and understand in context common poetic devices, such as rhythm and meter
Compare and contrast poems via active class discussion
Provide a well-supported, written analysis of the relationship between a poem's form and its content
What is the relationship between a poem's form and its content in Frost's poems "Mending Wall"?
Related websites