Mark Twain's Adventures of Huckleberry Finn is published
Critical Ways of Seeing The Adventures of Huckleberry Finn in Context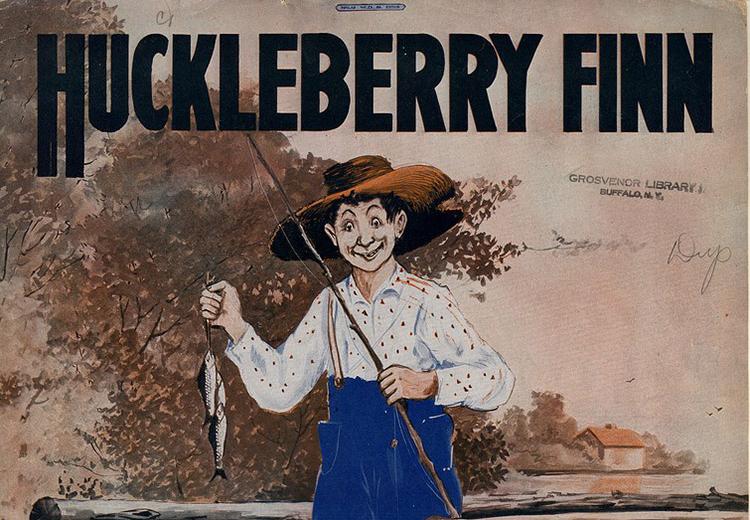 Huckleberry Finn opens with a warning from its author that misinterpreting readers will be shot. Despite the danger, readers have been approaching the novel from such diverse critical perspectives for 120 years that it is both commonly taught and frequently banned, for a variety of reasons. Studying both the novel and its critics with an emphasis on cultural context will help students develop analytical tools essential for navigating this work and other American controversies. This lesson asks students to combine internet historical research with critical reading. Then students will produce several writing assignments exploring what readers see in Huckleberry Finn and why they see it that way.
After completing this unit, students will be able to: Read and write literary criticism
Perform historical/biographical analysis of non-fiction works
Define cultural context and describe aspects of others' contexts as well as their own
Make inferences and develop the ability to provide convincing evidence to support their inferences
How does a critic's cultural context help explain his or her opinions about a book?
What influences in my cultural context help explain my opinions about a book?
How does acknowledging my opinions' origins in the culture around me, and recognizing that changes in culture cause changes in opinions, affect the way I state my opinion?
Lesson 1: Mark Twain and American Humor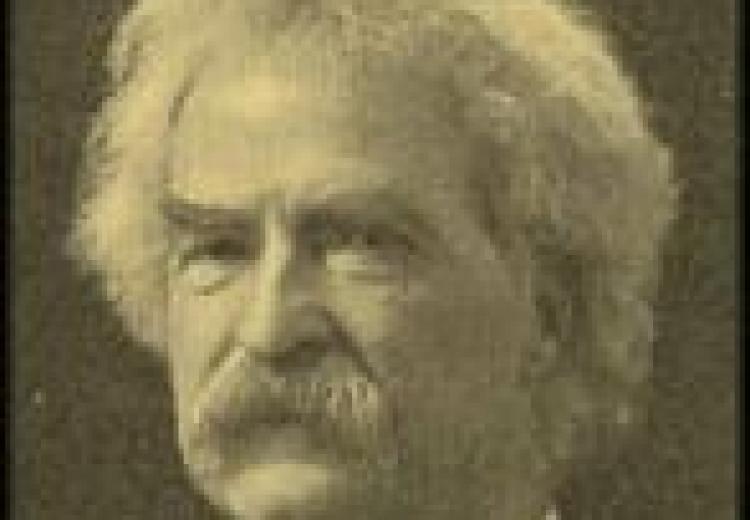 When Mark Twain's "The Celebrated Jumping Frog of Calaveras County" first appeared in 1865, it was hailed by James Russell Lowell, the Boston-based leader of the literary elite, as "the finest piece of humorous literature yet produced in America." This was high praise for a tall-tale from a hitherto little known San Francisco newspaper humorist, but Lowell aimed precisely at the most distinguishing feature of Twain's first nationally acclaimed work of fiction: its transforming relationship to the long tradition of American humor. In this brief masterpiece, Twain combines the vibrant, loquacious storytelling tradition rooted in folk tale, fable, and gossip with the more calculated literary tradition of satire, irony, and wit. This lesson plan frames "The Jumping Frog" in this context, introducing students to both aspects of American humor in order to deepen appreciation of Twain's achievement.
At the end of this lesson, students will be able to: Analyze the use of literary conventions and devices to develop character and point of view in the short story
Discuss the purposes and significance of literary humor
Examine Mark Twain's storytelling style in relation to that of other American humorists
What place does Mark Twain have in the history of American literary humor?
How does "The Celebrated Jumping Frog of Calaveras County" draw from earlier works of American humor in both form and content?
Twain & American Humor
Mark Twain and American Humor
Mark Twain | George Washington Harris | Nathaniel Hawthorne
Mark Twain
Mark Twain was the pseudonym of Samuel Clemens, one of America's most famous writers. Read his short story "The Celebrated Jumping Frog of Calaveras County" and explore these websites to learn more about how Samuel Clemens created the "character" of Mark Twain, author.
After you read the story, think about the way that it is structured. Your teacher may have you try a variety of exercises to explore the structure of the story, including staging and acting out the story or using one of the tools listed below. Use the questions below to help you think about how the structure contributes to the story's comedic effect.
Structuring "Jumping Frog" (PDF)
How does this structure influence our perception of Jim Smiley?
To what extent does he seem just a character in a story?
To what extent does he seem realistic, a picturesque inhabitant of the Old West?
To what extent does he seem a fantasy creation of the storyteller, Simon Wheeler?
How do these perspectives combine in our response to Smiley as a comic protagonist?
How does Simon Wheeler's voice influence our perception of Smiley?
To what extent does Wheeler's picturesque speaking style help bring Smiley's story to life?
To what extent does his distinctive style bring Wheeler himself to life as a comic character?
George Washington Harris
George Washington Harris was an "authentic comic genius" (Wilson and Ferris) whose work influenced later writers such as Mark Twain and William Faulkner. Harris and other southwest humorists who wrote in the 1830s through the 1860s, though considered low-brow at the time, are now recognized as foundational contributors to the humorist literary tradition. Read the Sut Lovingood story, "Mrs. Yardley's Quilting Party," by George Washington Harris and examine the story's structure.
This interactive map of the United States, via EDSITEment-reviewed Digital History, shows the outlines of states as they are added to the United States. To see this in action, drag the bar at the bottom through the timeline. Important moments in history are noted and annotated on the map.
Static maps via EDSITEment-reviewed Digital History:

Additional maps available at the EDSITEment-reviewed National Parks Service: A Link to the Past:
How does each dialect style (Twain's and Harris') characterize the speaker?
How does each influence our attitude toward the speaker?
Is Sut Lovingood more or less appealing for the way he speaks?
How does this structure influence our perception of Sut Lovingood?
How does it position him in relation to the narrator and the literate, "civilized" world that the narrator represents?
How does it reflect on the "folk" world for which Sut is the spokesman?
Based on the story's structure, who is the target of Harris' humor?
To what extent is Sut Lovingood the instrument of Harris' ridicule and to what extent the object of it? Is Sut a trickster like Jim Smiley of Mark Twain's "Jumping Frog" or, as Harris described him in the subtitle to his collection of Sut Lovingood stories, "a Nat'ral Born Durn'd Fool"?
Nathaniel Hawthorne
Born in 1804 in Salem, Massachusetts, and a descendant of a judge in the Salem Witch Trials, Nathaniel Hawthorne had an understandable fascination with the Puritan ancestry and history that surrounded him. His collection of stories, Twice-Told Tales, which includes "Dr. Heidegger's Experiment," with its sharp satire and refined narrative style, was published in 1837. Read about Hawthorne, read his story "Dr. Heidegger's Experiment," and consider whether or not the tale is darkly moralistic or satiric.
The Narrator:
Is there a role for Hawthorne's narrator in their dramatization of the story?
Where does the narrator stand in relation to the action he describes?
Is he the storyteller, like Simon Wheeler; an audience, like the narrators created by Twain and Harris; or simply an observer of the action, like Hawthorne's reader?
Dr. Heidegger:
To what extent is Dr. Heidegger a satirist who "stages" this experiment to reveal his victims' weaknesses?
How does the narrator compare to Dr. Heidegger? How do they differ? Do they reflect similar or different social circumstances?
(If you have read the stories by Mark Twain and George Washington Harris, also review these questions:)
To what extent can he be compared to a storyteller like Simon Wheeler?
To what extent can he be compared to a trickster like Jim Smiley or Sut Lovingood?
The Structure of the Story:
How does the story's structure influence our perception of Hawthorne's characters? Do they seem like "storybook" characters? realistic? fanciful?
Related websites