Langston Hughes, African-American poet, is born
The Poet's Voice: Langston Hughes and You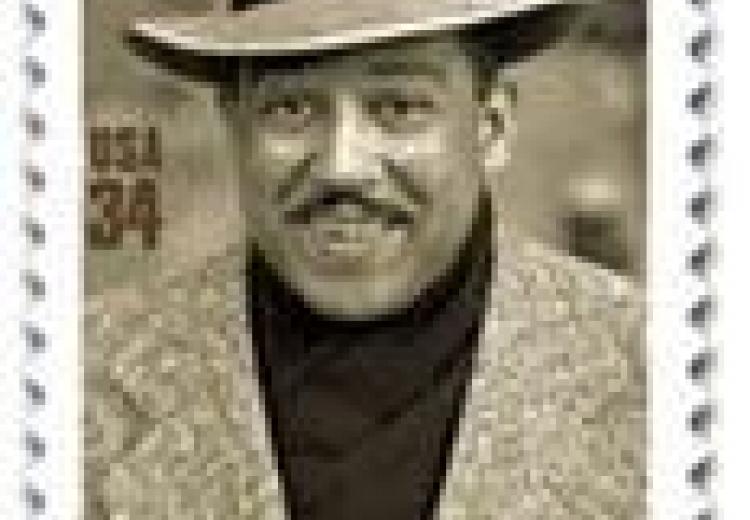 When the Academy of American Poets, an EDSITEment-reviewed website, asked the public to vote on their favorite American poet, the verdict was decisive: Langston Hughes. The Academy then sent a petition to the U.S. Postal service urging the adoption of a stamp commemorating this most popular of American poets, and on February 1 (the poet's birthday), 2002, the U.S. Postal Service did just that, issuing the stamp pictured in the left-hand corner above.
Poets achieve this kind of popular acclaim only when they express clear and widely shared emotions with a forceful, distinctive, and memorable voice. But what is meant by voice in poetry, and what qualities have made the voice of Langston Hughes a favorite for so many people?

Helping students to answer this question is the primary purpose of this lesson. Five journal entries and accompanying class discussions guide students in developing a general definition of voice in poetry, and in analyzing and appreciating the poetic voice of Langston Hughes in particular. These writing and discussion activities culminate in a writing assignment (Activity 7, below), in which students either write a poem expressing their own voice (as developed in their journals), or write about one of the qualities of Langston Hughes's poetic voice (as explored in class discussion).
Develop a definition of what is meant by voice in poetry
Learn about the qualities that make Langston Hughes's voice distinctive, forceful, and memorable
Write journal entries to develop their own voices as writers
Learn how images convey strong emotions in poetry
Learn how poetry gives shape, direction, and meaning to strong emotions
What qualities make a writer's voice forceful, distinctive, and memorable?
Walt Whitman to Langston Hughes: Poems for a Democracy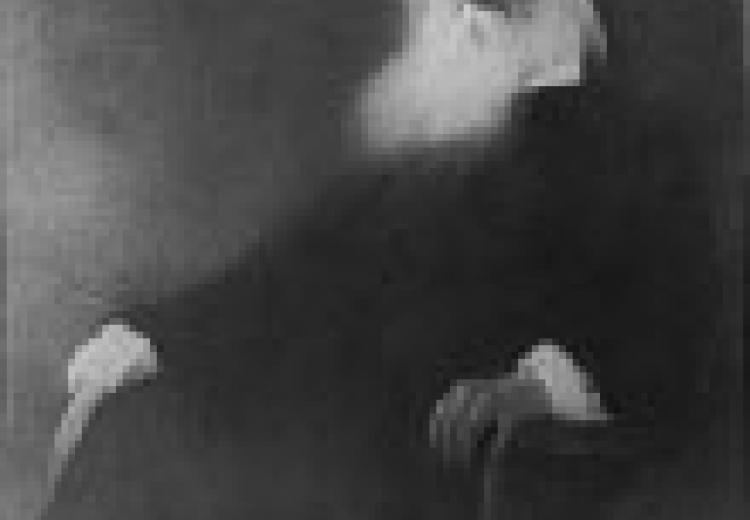 I will… go with drivers and boatmen and men that catch fish or work in fields. I know they are sublime."
—From Walt Whitman's Notebook Page 65, LOC #80, available on the EDSITEment resource American Memory

"Hughes refused to differentiate between his personal experience and the common experience of black America. He wanted to tell the stories of his people in ways that reflected their actual culture, including both their suffering and their love of music, laughter, and language itself."
—From the Biography of Langston Hughes, available on the EDSITEment-reviewed website The Academy of American Poets
Walt Whitman sought to create a new and distinctly American form of poetry. As he declared in Democratic Vistas, available on the EDSITEment resource American Studies at the University of Virginia: "America has yet morally and artistically originated nothing. She seems singularly unaware that the models of persons, books, manners, etc., appropriate for former conditions and for European lands, are but exiles and exotics here…." In the same document, he attacks the poets of his day as "genteel little creatures" who do not speak for the great democratic mass of Americans--the drivers, boatmen, and field-workers whom Whitman, in the first quotation above, calls "sublime." It is from this great democratic mass, he suggests, that new forms of art and poetry--a new conception of the sublime--will arise.
Did Whitman in his own poetry succeed in creating a revolutionary, original, and truly American form of verse? However we answer the question, it is certain that the example of the "Good Grey Poet" has had a profound influence on subsequent generations of American poets. In this lesson, students will explore the idea of "democratic poetry" by reading Whitman's words in a variety of media, examining daguerreotypes taken circa 1850, and comparing the poetic concepts and techniques behind Whitman's I Hear America Singing and Langston Hughes' Let America Be America Again. Finally, using similar poetic concepts and techniques, students will have an opportunity create a poem from material in their own experience.
Note: This lesson may be taught either as a stand-alone lesson or as a companion to the complementary EDSITEment lesson Walt Whitman's Notebooks and Poetry: the Sweep of the Universe. To make this lesson plan more compelling and fascinating for students, teachers should screen the brilliant Whitman episode from the NEH-funded series Visions and Voices (scroll down to "12. Walt Whitman") at the EDSITEment-reviewed site Learner.org. There is a log-in process required to access the actual movie, but the registration is free and provides entree to a wealth of educator resources.
After completing the activities in this lesson plan, students will be able to:
Discuss the democratizing effect of early photography and relate that to Whitman's poetry
How does Whitman's poetry and the poems of others influenced by him reflect Whitman's notion of a democratic poem?