Closer Readings Commentary
"Shakespeare Uncovered" Returns!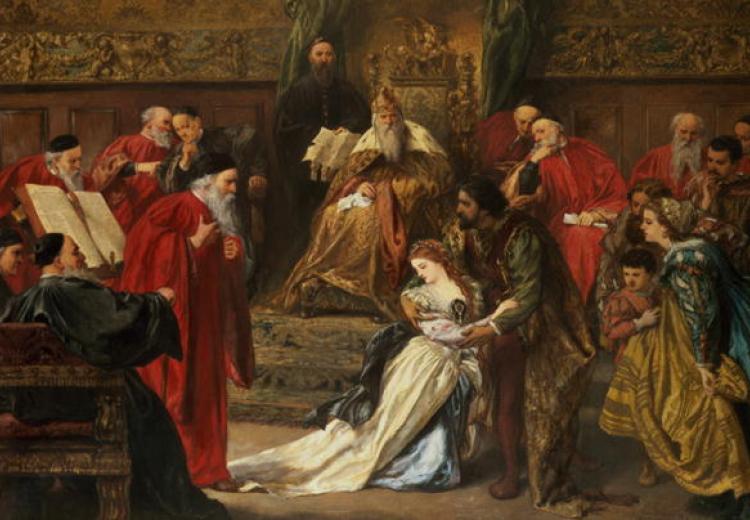 Shakespeare's plays still speak to us, they have resonance—hundreds of plays written since then don't. And "Shakespeare Uncovered" opens up to this huge American audience—this gold dust—and shows them [that] television doesn't end with Downton Abbey. If you think that's good … see what real writing, real authors, and real characters are about.—Jeremy Irons
The first six-part, NEH-funded installment of the series, Shakespeare Uncovered, debuted on PBS in the winter of 2013. This remarkably fresh approach combined history, biography, iconic performances, and the insights and personal passions of its celebrated hosts—Ethan Hawke, Jeremy Irons, Derek Jacobi, Trevor Nunn, Joely Richardson, and David Tennant—to tell the stories behind the stories of Shakespeare's greatest plays.
The second installment of this celebrated series when Shakespeare Uncovered returns! debuted in 2015 and investigates A Midsummer Night's Dream, King Lear, The Taming of the Shrew, Othello, Antony and Cleopatra, and Romeo and Juliet. Again, each episode features two hour-long segments focusing on one or two plays, each with a celebrity host. These discussions are built around interviews with actors, directors, and scholars and include clips from screen versions of the plays and live performance segments filmed at the reconstructed Globe Theatre. As before, the broadcasts will be accompanied by a rich website and community outreach.
Each celebrity host relates not only the story of the plays themselves, but also how they came to be written, how they have been performed, and how they have survived over 400 years. In the course of each episode, the host shares his/her deep personal connection with the play they present:
Hugh Bonneville (of Downton Abbey fame) began his career as an understudy in A Midsummer Night's Dream;
Christopher Plummer is considered by some to be one of the great Lears of our time;
Morgan Freeman recalls his portrayal of Petruchio in New York City's The Public Theater's Shakespeare in the Park production, The Taming of the Shrew, set in America's Wild West;
David Harewood played Othello at London's National Theatre—the first black actor to assume the role there. (Harewood will be familiar to Homeland fans as CIA deputy director David Estes and currently is portraying Sam Saperstein on Selfie);
Kim Cattrall has twice graced the English stage in the role of Cleopatra;
Joseph Fiennes was tapped for the double role in Academy Award-winning feature film, Shakespeare in Love, portraying both the playwright William Shakespeare and his dramatic creation—the character of Romeo.
Students may be amused as well as educated by revelations concerning the backstories of the plays. It's important for them to understand that Shakespeare was in show business. In addition to being an unequaled master of the English language, he was also a showman who drew heavily on historical sources, brought back popular characters, and had no qualms about appropriating ideas from current events and other writers for dramatic material.
Here are a handful of "Purpose for Viewing Questions" to focus your students' attention in this viewing experience and spur follow up classroom discussion:
What sparked the creation of each of these works?
Where did Shakespeare get his plots and what new forms of theater did he forge?
What cultural, political, and religious factors influenced his writing?
How have the plays been staged and interpreted from Shakespeare's time to now?
Why at different times has each play been so popular—or ignored?
Why has Shakespeare's work endured? What, in the end, makes Shakespeare so great?
Bonneville goes to see the play—on Midsummer's Night—at the Globe Theatre and talks to the Globe's artistic director Dominic Dromgoole about its delicate balance between comedy and tragedy, the natural and the supernatural.
Part 2. King Lear with Christopher Plummer
Plummer examines what inspired Shakespeare to write a play about a kingdom divided—at a delicate moment when a new King (James) from Scotland was trying to create what has become the "united kingdom".
Freeman notes that this play set the template for all of the battle-of-the-sexes comedies that have followed; many a romantic comedy has The Taming of the Shrew running through its veins.
Part 4. Othello with David Harewood
Harewood learns about the Moorish ambassador who visited the court of Queen Elizabeth I and may have inspired Shakespeare.
Friday, February 13
Cattrall looks at the source Shakespeare used and how closely he copied the language of a Roman historian to describe Cleopatra's beauty; today he might be at risk for plagiarism.
Fiennes takes us back to the source—an Italian story translated into English when Shakespeare was a boy. Shakespeare adapted and dramatized the Italian poem, and other writers have been adapting him for centuries.