Closer Readings Commentary
"Black Out: Silhouettes Then and Now" at the Smithsonian Portrait Gallery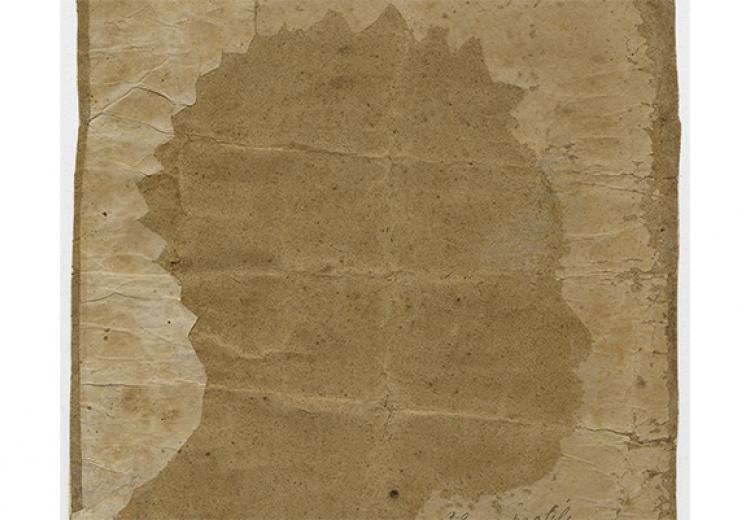 The Smithsonian National Portrait Gallery exhibition titled "Black Out: Silhouettes Then and Now" is the first major exhibition to trace the development of the silhouette as an art form. Curated by Asma Naeem, the exhibition highlights the surprisingly complex historical, political, and social aspects of this seemingly artless art form and illuminates how it reflected the paradoxes of a young nation dedicated to the principles of liberty and equality yet cursed with the institution of slavery. 
The exhibition illustrates the rise of portraiture in the decades leading up to the Civil War while also exploring the profound connections between past and present with a spectacular display of contemporary art installations alongside more quiet, albeit equally moving, historical silhouettes. For teachers who are interested in social history this exhibition offers much food for thought.
At the entrance hangs the life-sized profile of a 19-year-old named Flora. It is one of the few known portraits of an enslaved woman in America. Her silhouette is displayed on cut paper, yellowed with age, her profile traced on mottled brown board. Beside the silhouette hangs a bill of sale to a certain Asa Benjamin of Stratford, Connecticut, dated 13 December 1796. Flora's silhouette was done by candlelight, and the board's grainy texture gives it an unsettling presence. The portrait documents the short and tragic life of a woman reduced to chattel in her master's ledger. The bill, meanwhile, is a painful reminder of the tragic flaw in American democracy. 
The exhibition also introduces Martha Ann Honeywell, a popular 19th-century Baltimore artisan whom we might today call an "outsider artist." Born missing her arms and one foot, she used her toes to make paper cut-outs of people's faces as well as natural motifs like snowflakes or flowers, rendered in multicolored paper and so intricately clipped they resemble needlework.
"Black Out" also includes the oldest known portrait of a same-sex couple in North America: the paired silhouettes of Sylvia Drake and Charity Bryant, on a cream-colored paper and silk, rimmed with braided locks of golden hair. With their slender necks and simple coiffures, the two could be mistaken for sisters; they met in Weybridge, Vermont, in 1807, where they co-founded a successful tailoring business. The couple were life partners who lived together for over 40 years. Charity was the aunt of the influential 19th-century poet and writer, William Cullen Bryant, and it is through some of Bryant's letters, in which he lifted "the veil of [their] private life," that present-day historians have been able to reconstruct the relationship.
The show features the work of a formerly enslaved man named Moses Williams. Williams was born to mixed-race parents in Philadelphia in 1777. Although he was manumitted by the painter, naturalist, and museum entrepreneur Charles Willson Peale at the age of nine, Williams was forced to serve another family until the age of 28, then the legal age for emancipation. The inscription above Mr. Shaw's Blackman (1802)–pasted on striking cerulean paper–identifies its subject as a servant, while Williams's own self-portrait from 1803 possesses incredibly refined detail, down to his long eyelashes and jaunty necktie. 
Auguste Edouart (1789–1861), a French-born portrait artist who later worked in the United States, created his share of historical silhouettes. Edouart made nearly 4,000 elegant, detailed and artistically ambitious silhouettes. He captured the likenesses of such notable figures as President John Quincy Adams, who in his later career as a congressman, defended African mutineers in the Amistad case. Many of his creations are of prominent members of society, often men in formal wear. He also assembled silhouettes into composite pictures, sometimes capturing vignettes of family life.
Apart from the historical pieces, the exhibition also displays the works of notable contemporary artists: Kara Walker, who offers a stunningly savage panoramic of silhouettes of plantation life and African-American history; Canadian artist Kristi Malakoff, who cuts paper to make life-sized sculptures depicting a children's Maypole dance; MacArthur-prize-winner Camille Utterback, who presents an interactive digital work that reacts to visitors' shadows and movements; and Kumi Yamashita, who "sculpts" light and shadow with objects to create mixed-media profiles of people who are not there.
With both jaw-dropping historical and contemporary explorations, "Black Out" reveals new pathways between our past and present, particularly with regard to how we can reassess notions of race, power, individualism, and even, our digital selves. The show will be on view through March 24, 2019, at the National Portrait Gallery in Washington, D.C.