Closer Readings Commentary
Arturo Schomburg and African American History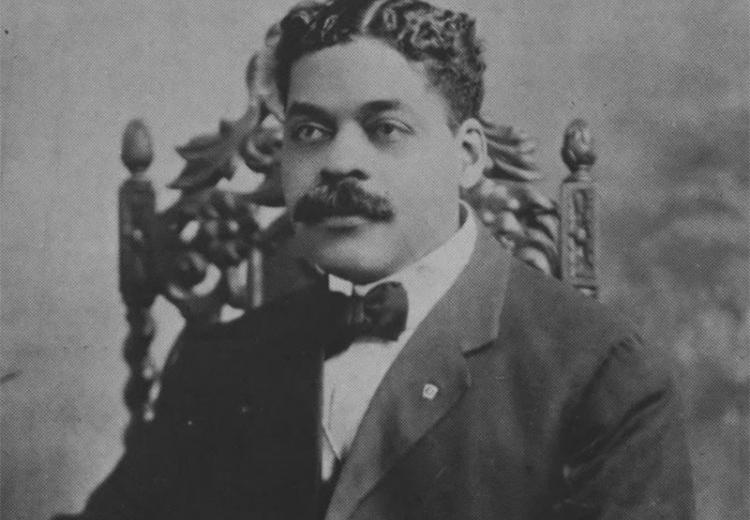 "… I depart now on a mission of love to recapture my lost heritage."

—Arturo A. Schomburg, historian and collector
The origin of Black History Month goes back to 1925, when historian and teacher Carter G. Woodson advocated recognition of "Negro History Week." In 1976, the "week" became a nationally celebrated month dedicated to informing, celebrating, and honoring the breadth of contributions made by African Americans.
Other scholars contemporary to Woodson also recognized the need to increase public awareness of the achievements made by African Americans. Arturo A. Schomburg, an immigrant from Puerto Rico who had been told by his fifth-grade teacher that "Black people have no history, no heroes, no great moments," began writing about African world history when he immigrated to New York City in 1891. Like Woodson, Schomburg wished to correct the perception that people of African descent had no "history" or "culture."
While engaged in his writing projects, Schomburg began collecting books by and about African people. Before long, he had assembled a significant collection of documents, including Benjamin Banneker's Almanacs. In 1926 Schomburg added his collection of ten thousand items to The New York Public Library's Division of Negro Literature, History, and Prints. In 1972, this division was renamed the Schomburg Center for Research in Black Culture and today contains more than 5 million items.
EDSITEment showcases two online exhibits created by the Schomburg Center for Research and Black Culture in collaboration with the New York Public Library.
Harlem 1900-1940: An African American Community—a portfolio of images, texts, and educational resources designed to help students and teachers discover the cultural, social, and intellectual history of one of the most celebrated African American communities: Harlem. This site contains instructional materials appropriate for middle and high school students, but there are also resources that could be used with younger students as well.
Images of African Americans from the Nineteenth Century—a vast collection of images that document the social, political, and cultural life of African-Americans as they dealt with the difficult transition from slavery to freedom.
Together, these two online exhibits trace not only the outstanding achievements made by several distinguished African Americans, but also reveal the daily life, community activism, and rich social fabric of African American culture.