Closer Readings Commentary
Lessons from Dr. Martin Luther King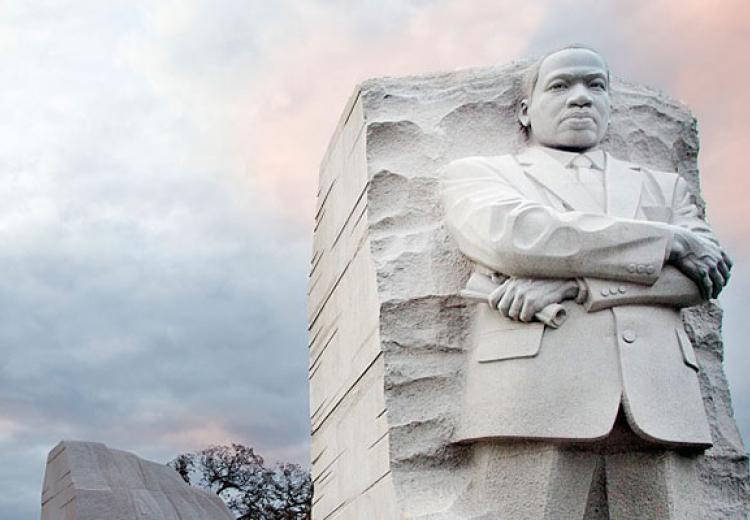 On the third Monday of January, Americans celebrate the life and achievement of one of our most respected citizens—Martin Luther King, Jr.  
Dr. King, the best known leader of the civil rights movement, grew up in Atlanta, Georgia, the son of prominent pastor Rev. Martin Luther King, Sr.  King became a pastor of Dexter Avenue Baptist Church in Montgomery, Alabama, when he was twenty five. He received national attention for his role in the 1955-6 Montgomery Bus Boycott to end segregated city buses. He helped found the Southern Christian Leadership Conference in 1957, and served as its first president.
Dr. King was a leading force in the drive for civil rights in the United States, and he showed through words and actions that nonviolent, persistent activism can achieve tremendous results by appealing to the moral conscience of Americans. Our feature, I Have a Dream: Celebrating the Vision of Martin Luther King, Jr. brings together a collection of resources: lesson plans, student activities, and vetted websites to help teachers, students, parents, and caregivers understand the impact Dr. King had, and continues to have, upon our country and the global efforts towards peace and civil rights.
As you prepare to teach about and learn from Dr. Martin Luther King, here are three EDSITEment lessons plans for the different grade bands:
Grades K–2
Dr. King's Dream
Walk with Martin Luther King, Jr. on his historic March on Washington; hear his inspirational "I Have a Dream" speech; and envision your own dreams of freedom for all Americans.
In this lesson, students will learn about the life and work of  Martin Luther King, Jr. Students will listen to a brief biography, view photographs of the March on Washington, hear a portion of King's "I Have a Dream" speech, and discuss what King's words mean to them. Finally, they will create picture books about their own dreams of freedom for Americans today.
Grades 6–8
Martin Luther King, Jr., and the Power of Nonviolence
This lesson introduces students to Martin Luther King, Jr.'s philosophy of nonviolence and the teachings of Mohandas K. Gandhi that influenced King's views. After considering the political impact of King's philosophy, students explore its relevance to their personal conduct in everyday life.
Grades 9–12
Martin Luther King, Jr. and Nonviolent Resistance
"I have consistently preached that nonviolence demands that the means we use must be as pure as the ends we seek." So wrote Martin Luther King, Jr. in April 1963 as he served a ten-day jail term for violating a court injunction against any "parading, demonstrating, boycotting, trespassing and picketing" in Birmingham.
King came to Alabama's largest city to lead an Easter weekend protest and boycott of downtown stores as a way of forcing white city leaders to negotiate a settlement of black citizens' grievances. King wrote his "Letter from Birmingham Jail" in response to a public statement by eight white clergymen who appealed to the local black population to use the courts and not the streets to secure civil rights. The clergymen counseled "law and order and common sense," not demonstrations that "incite to hatred and violence," as the most prudent means to promote justice. This criticism of King was elaborated the following year by a fellow Baptist minister, Joseph H. Jackson (president of the National Baptist Convention from 1953–1982), who delivered a speech counseling blacks to reject "direct confrontation" and "stick to law and order."
Through a close reading of King's famous essay in defense of nonviolent protest, along with two significant criticisms of his direct action campaign, students will be better able to assess various alternatives for securing civil rights for black Americans in a self-governing society.
Dr. King and the Freedom Riders
For a fascinating look at Dr. King's sometimes tense relationship with the younger members of the civil rights movement, turn to the film Freedom Riders, part of the Created Equal website. A few clips are recommended:
Dr. King's support for CORE's Freedom Ride campaign was initially limited and cautious. At a reception held for the Freedom Riders in Atlanta, he passed on warnings of planned Klan violence ahead, telling the Riders, "You will never make it through Alabama." (Freedom Riders film, at 0:18:40–0:19:45)

Later, after the Freedom Riders had made their way to Montgomery, he spoke eloquently on behalf of their campaign to the national media and from the pulpit at First Baptist Church, just prior to its siege and firebombing. King was an active participant in strategy sessions over the next three days, as the Riders holed up in the Montgomery mansion of Dr. Richard Harris. However, King declined to become a Freedom Rider himself, disappointing several of the younger Riders, who mockingly referred to him as "De Lawd."  (Freedom Riders, 1:12:35–1:26:52)

Later in the decade, King worked with many of the new leaders who emerged from the Freedom Rides on campaigns such as the March on Washington and the Selma to Montgomery Marches to achieve important movement victories, culminating in the passage of the Civil Rights Act of 1964 and the 1965 Voting Rights Act. King was awarded the Nobel Peace Prize in 1964. Prior to his assassination in 1968, King had shifted his efforts on the Poor Peoples Campaign to combat economic injustice and opposition to the Vietnam War. In 1986, Martin Luther King Jr.'s birthday became a national holiday.
Related Links
Martin Luther King, Jr. in New Georgia Encyclopedia
Martin Luther King, Jr. in the Encyclopedia of Alabama